The federal government has given its strongest signal yet that it's about to move on recommendations to improve the regulation of airport slots, two years after they were first delivered, as consumer dissatisfaction surrounding high airfares continues.
Transport Minister Catherine King released the government's long-awaited green paper into Australian aviation to 2050 on Thursday, and stated Sydney Airport's slot allocation scheme would be reformed "in due course".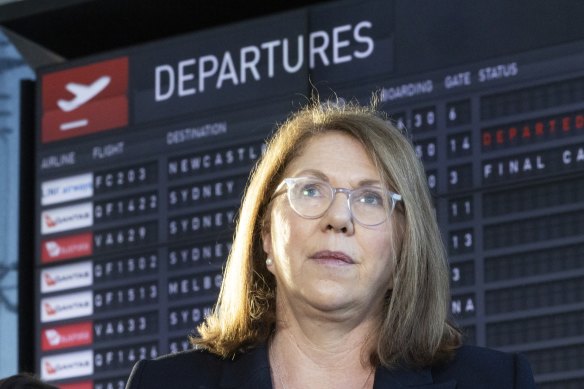 Sydney Airport is the biggest gateway into Australia, but is governed by outdated regulation that is regularly criticised by its own management and its airline, airport and tourism partners. The green paper was released for industry consultation ahead of a formal white paper, which is due by the middle of next year.
"We have recently concluded targeted consultation regarding potential changes to the [slot-management] scheme, with a particular eye to modernising the slot allocation framework and strengthening compliance measures to ensure that slots are not being misused by airlines. I will have more announcements to make about these reforms in due course," King said.
In 2020, former Productivity Commission chair Peter Harris delivered a report following an independent review into the slot management at Sydney Airport which called for an overhaul of its slot management system to make it easier for new entrants, both domestic and international, to fly in and out of the hub.
Successive governments have not yet implemented his recommendations, to the chagrin of some airlines and the country's airports, who allege the domestic market is not competitive enough.
Prime Minister Anthony Albanese declared earlier this week that Australia is the "most competitive aviation market in the world, bar none". But the green paper makes it clear the sector, where 95 per cent of passengers are carried by the country's two biggest airlines, could do more to address the concentration of the industry.
"The Australian domestic aviation market is highly concentrated, and the market is experiencing structural change which may impact the competitive dynamic in the future. With airlines no longer competing 'head to head' and focussing on market niches, the Australian government recognises a reduction in competitive tension could adversely impact consumers and businesses that rely on aviation, potentially leading to higher prices and lower service outcomes," the green paper says.