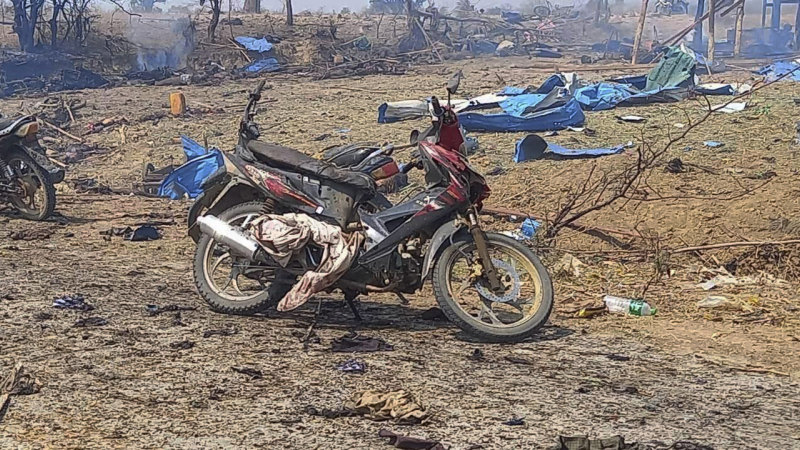 The military government's spokesperson, Major General Zaw Min Tun, acknowledged in a statement phoned to state television MRTV that the ceremony had been attacked, but accused anti-government forces in the area of carrying out a violent campaign of terror. He said the People's Defence Forces – the armed wing of the NUG – had terrorised residents into supporting them, killing Buddhist monks, teachers and other people, while the military sought peace and stability. He said there was evidence the attack had set off secondary blasts of explosives hidden by the People's Defence Forces around the site.
Loading
In response to accusations of abuses, the military government often accuses pro-democracy forces of terrorism. But analysts for the United Nations and non-governmental organisations have gathered credible evidence of large-scale human rights abuses by the army, including the burning of entire villages and displacement of more than a million people, triggering a humanitarian crisis.
The death toll from Tuesday's air attack, if confirmed, could be the highest in more than two years of civil conflict that began when the army seized power in 2021. As many as 80 people were killed last October in another government air attack in northern Myanmar on an anniversary celebration of the Kachin ethnic minority's main political organisation, which is also battling the military government.
Myanmar has been in turmoil since the army takeover triggered widespread popular opposition. After peaceful demonstrations were put down with lethal force, many opponents of military rule took up arms, and large parts of the country are now embroiled in conflict.
The army has been conducting major offensives in the countryside, where it has faced some of the toughest resistance in Sagaing, in Myanmar's historic heartland. The resistance forces have no defence against air attacks.
Loading
In videos of the devastated village seen by AP, survivors and onlookers stumble through the area of the attack amid clouds of thick smoke, with only the skeleton frame of one building still standing in the distance. The videos could not immediately be verified but matched other descriptions of the scene.
Some motorbikes remained intact while others were reduced to their frames or buried under tree branches. In one area, two victims lay close together, one of whom had only one arm still attached.
Another victim lay face down in a small grove by the roadside. A few meters away, a small torso missing at least one limb could be seen.