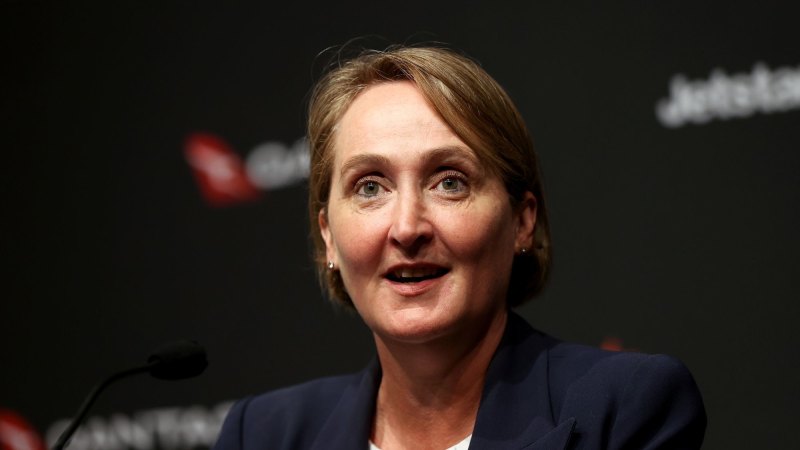 "I can honestly say that when I joined Qantas at 24, I did not expect to end up as chief executive officer," Hudson said.
"I don't think that I ever thought it was an expectation or a goal that I had, but now that I'm here, I'm just so honoured. I'm excited to follow in Alan's footsteps and looking forward to where we're entering a new, incredibly exciting chapter," she said.
Qantas shares slumped 2.5 per cent to $6.58 following the announcement.
Goyder, Joyce and Hudson did not weigh in on whether it was likely Wirth will depart the carrier as a result of Hudson's appointment.
" I absolutely want to see Olivia as a part of Qantas in the future and will be working with her to support her in the coming months and years ahead," Hudson said.
RBC analyst Owen Birrell said Hudson was the most logical choice for chief executive due to the airline's ongoing fleet renewal program.
"Given the significant fleet renewal program that Qantas is undertaking through project Winton and Sunrise, we believe Vanessa is the most suitable and appropriate candidate to execute on the strategy that she has been heavily involved in developing".
Joyce said in an interview he looks forward to exploring new Sydney-based business opportunities.
"The time is right. At the board's request, I extended my time as CEO to see through the COVID-19 recovery plan, so now that we're on the other side of that crisis it's a logical time for me to step down," Joyce said.
Loading
"There is a lot still to be done, as [I have] six months left in the role, and I'm looking forward to working with Vanessa on a smooth handover."
Joyce was recently appointed the incoming chair of the Sydney Theatre Company, succeeding Seek chief executive Ian Narev on a timeline yet to be determined.
Senator Tony Sheldon, a former vice president of the ACTU, said Joyce and the board of Qantas should retire immediately for what he deemed to be multiple leadership failings, including the redundancies of about 8000 employees at the onset of the pandemic.
"Rather than waiting until the end of the year, Alan Joyce could give Qantas workers and customers an early Christmas present by resigning today," Sheldon said.
Loading
"Clearly the CEO resigning is not enough. The Qantas board, which green lit every greedy, illegal action taken throughout the Joyce era, desperately needs renewal.
Alan Joyce has left a massive task for the next CEO, who must restore the spirit of Australia to Qantas and end Alan Joyce's ideological war on its loyal workforce and frustrated customers."
The Australian and International Pilots Association's president Tony Lucas said Qantas pilots were invested in the airline's success under the new leadership.
"We look forward to working with Vanessa in her new role to ensure the continuing growth of the Qantas Group to the benefit of the travelling public, staff and shareholders" Lucas said.
The Business Briefing newsletter delivers major stories, exclusive coverage and expert opinion. Sign up to get it every weekday morning.