Prime Minister Anthony Albanese has weighed in on independent senator Lidia Thorpe's tirade outside a strip club, saying she has "obvious" health issues that must be dealt with.
In a radio interview on Wednesday morning, Albanese described Thorpe's behaviour as "unacceptable" as he was asked about her conduct in light of a string of recent incidents that have garnered negative media attention.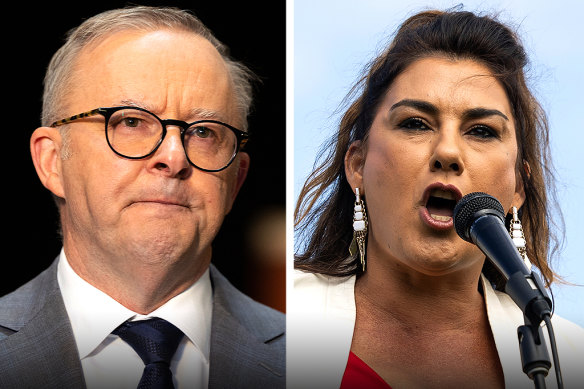 "I hope that Lidia gets some support. I think that that level of behaviour is quite clearly unacceptable. And I think there are obvious issues that need to be dealt with in terms of her health issues. These are not the actions of anyone who should be participating in society in a normal way, let alone a senator," Albanese told 2SM.
"And Lidia needs to be very conscious of the way in which this behaviour has been seen. They are repeat exercises now."
Albanese pointed to Thorpe's behaviour at Sydney's Mardi Gras in February when she lay on the ground in front of a float, temporarily halting the parade until she was removed by police.
Loading
"That was actually a truck for Twenty10 that a youth service that look after young gay and lesbian people and a service from my electorate. Why someone would lay in front of that truck in order to get attention is beyond my comprehension and I hope that she gets some form of support," Albanese said.
Thorpe said Albanese had "absolutely" overstepped the mark with his comments and hit back at the prime minister's characterisation of her behaviour, promising "all will be exposed" in a forthcoming interview.
"I'm doing an interview tomorrow to stop the barrage of lies and ill-informed comments. The response to anything I do is unacceptable and filled with hate and lies," she said, without disclosing which outlet the interview would be with.