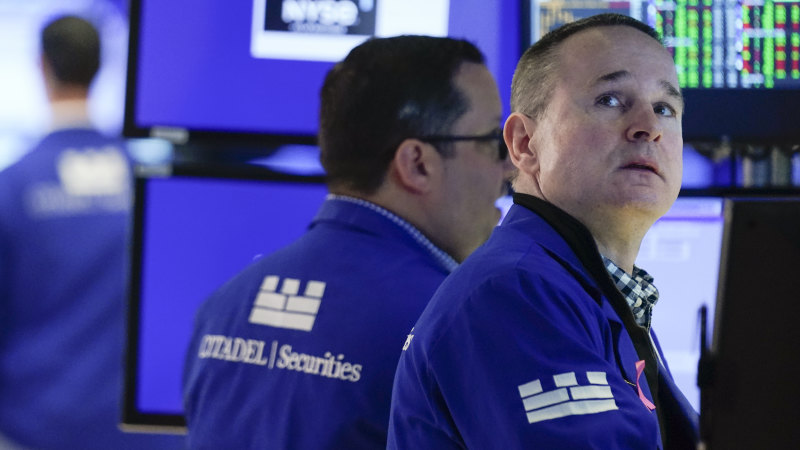 Apple is the dominant force on Wall Street because it's the most valuable stock, and it fell 2.9 per cent to follow up on its 3.6 per cent drop a day before.
Nvidia sank 1.7 per cent to bring its loss for the week so far to 4.7 per cent. It and a cohort of other stocks in the artificial-intelligence industry have soared this year on expectations that AI could mean explosive future growth in profits.
C3.ai tumbled 12.2 per cent after it said late Wednesday that it no longer expects to be profitable in its final fiscal quarter of the year, as it invests more in opportunities around generative AI. Analysts also pointed to disappointing profit margin levels for the company during its latest quarter, which was the first of its fiscal year.
While the majority of stocks on Wall Street fell, several helped to limit the losses.
WestRock, a maker of containerboard and other packaging, rose 4.2 per cent after Smurfit Kappa Group said it was in discussions to combine the two companies and keep its headquarters in Dublin, Ireland.
Power companies and other stocks seen as steadier investments also held up better than the rest of the market. Utility stocks in the S&P 500 rose 1.3 per cent as a group. That was nearly double the gain of any of the other 10 sectors that make up the index.
Loading
In the bond market, the yield on the two-year Treasury initially jumped after the unemployment report but then eased as the day progressed. It slipped to 4.95 per cent from 5.03 per cent late Wednesday, but it remains above the 4.88 per cent level where it started the week. The two-year Treasury yield tends to track expectations for the Fed.
Traders still mostly expect the Fed to stand pat on interest rates at its next meeting later this month. But they're betting on a roughly 45 per cent chance of another increase by the end of the year, according to data from CME Group.
The yield on the 10-year Treasury, which is the centerpiece of the bond market and helps set rates for mortgages and other important loans, fell to 4.24 per cent from 4.30 per cent late Wednesday.
In stock markets abroad, indexes fell in China following the latest set of discouraging data on the world's second-largest economy. Hong Kong's Hang Seng dropped 1.3 per cent, and stocks in Shanghai fell 1.1 per cent after a report said China's exports fell from year-ago levels for the fourth straight month.
Its economic recovery has fallen well short of expectations after it removed anti-COVID restrictions. That has removed a big engine of growth for the global economy, but it's also helped to take some pressure off inflation worldwide.
AP
The Market Recap newsletter is a wrap of the day's trading. Get it each weekday afternoon.