The S&P fell 1.2 per cent after paring a steeper loss. The Dow Jones Industrial Average dropped 367 points, or 1.1 per cent, after earlier being down as many as 615 points. The Nasdaq composite sank 1.1 per cent.
Some of the sharpest drops came from smaller- and mid-sized banks, which have been under heavy scrutiny as the banking system shows cracks under the weight of much higher interest rates. PacWest Bancorp dropped 27.8 per cent, Western Alliance Bancorp fell 15.4 per cent and Comerica sank 12.4 per cent.
Three of the four largest US bank failures in history have come since March, and investors have been on the hunt for what could be next to topple or suffer a debilitating exodus by customers.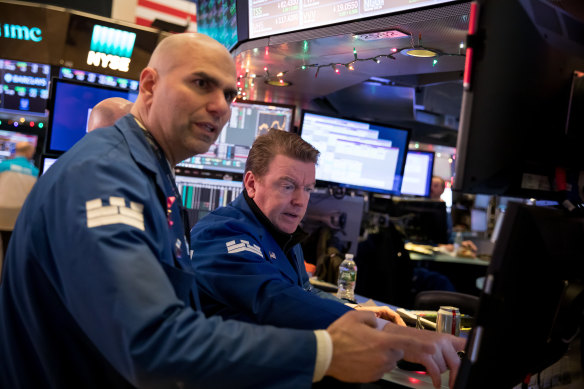 Regulators seized First Republic Bank at the start of this week and sold most of it to JPMorgan Chase, which had raised hopes that the turmoil could ease.
Also pressuring the market was a report showing US employers advertised the fewest job openings in nearly two years during March. The job market has been one of the main pillars supporting a slowing economy, and a drop-off there would likely mean a recession.
Such pressure is raising the stakes for the Federal Reserve, which began a two-day meeting on interest rates. The widespread assumption is that it will raise rates on Wednesday local time [early Thursday AEST] by another quarter of a percentage point. The widespread hope is that it will be the last increase for a long time.
Loading
Still, some investors anticipate the Fed on Wednesday may not offer encouraging signals that rate hikes are over, let alone open the door to rate cuts.
Australia's Reserve Bank surprised markets Tuesday by raising rates by a quarter of a percentage point and saying "some further tightening" may be needed to get inflation fully under control. It pointed to prices still rising too quickly for services, an area that the Fed has also been focused on.
Adding worries on top of that is the latest political spat over the nation's debt limit. Treasury Secretary Janet Yellen said late on Monday that the US government could default on its debt as early as June 1 unless a divided Congress allows it to borrow more. That's an earlier "X-date" than previously thought.
A default could be disastrous because much of the financial system is built on the assumption that US government debt is the safest investment available. Most of Wall Street believes Congress will come to a deal before the deadline, as it has many times before, because the alternative would be so dire.
In the US bond market, the yield on the 10-year Treasury slumped to 3.42 per cent from 3.57 per cent late Monday.
With AP
The Market Recap newsletter is a wrap of the day's trading. Get it each weekday afternoon.