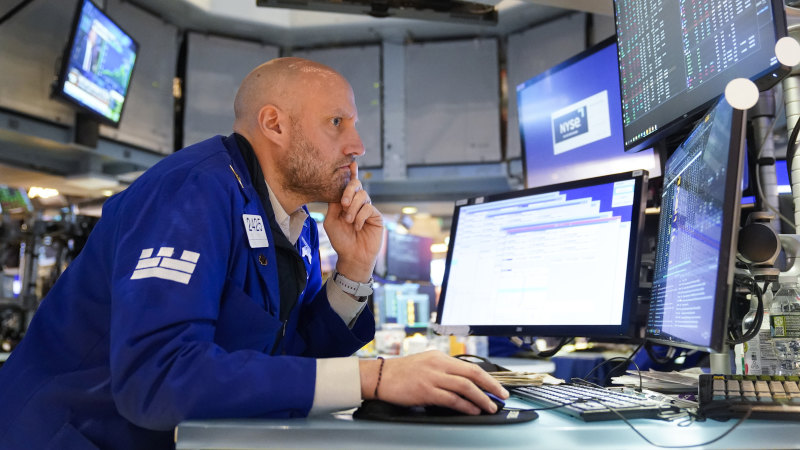 Expect the S&P 500 to drop at least 2 per cent should the year-over-year inflation rate come in above the previous reading of 6 per cent, Flood wrote in a note to clients on Tuesday. But stocks are likely to go higher, he says, if CPI meets or trails 5.1 per cent, which happens to be the consensus estimate from economists in a Bloomberg survey.
"[The] stock market wants a softer print as a hot reading will add more confusion/uncertainty into the equation of what the Fed does from here," the veteran trader wrote. "Another hike in May but then aggressive cuts in Q4 [the December quarter]? This is what Fed fund futures are pricing in ahead of tomorrow's print."
Loading
Traders in the bond market have been showing nervousness about the Fed possibly going too far on rates and then having to cut them as soon as this summer to prop up the economy. But the stock market has remained more resilient, helped by hopes the Fed could thread the needle and raise rates just enough to stifle inflation without causing a severe recession.
Still-high inflation is one of the reasons analysts expect this upcoming earnings reporting season to show the worst drop since the depths of the pandemic in 2020. A bunch of banks will help kick off the earnings reporting season when they tell investors on Friday how much they earned during the first three months of the year.
Besides the backwards-looking numbers, investors say they're also hungry to hear what CEOs say about current and upcoming conditions. One fear is that banks in particular could pull back on their lending following all the turmoil in their sector, caused in part by the past year's swift leap in interest rates.
If they do cut off lending to businesses, that could further slow the economy and raise the risk of a recession.
Used car seller CarMax jumped 11 per cent after reporting stronger profit than analysts expected for its latest fiscal quarter, which ended Feb. 28. It had one of the biggest gains within the S&P 500.
On the losing end was Moderna, which fell 2.3 per cent after it said its potential flu vaccine needs more study in a late-stage clinical trial.
In markets abroad, stocks rose modestly across much of Europe.
In the bond market, yields were ticking higher. The 10-year Treasury yield climbed to 3.44 per cent from 3.42 per cent late on Monday. It helps set rates for mortgages and other important loans.
The two-year yield, which more closely tracks expectations for the Fed, rose to 4.05 per cent from 4.01 per cent.
AP, Bloomberg
The Business Briefing newsletter delivers major stories, exclusive coverage and expert opinion. Sign up to get it every weekday morning.