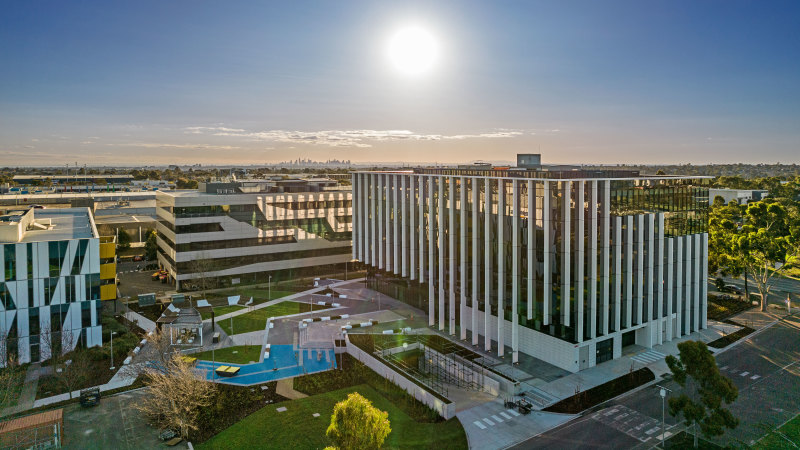 The property, leased to a sporting goods distributor, has been rezoned to Mixed Use.
CBRE agents David Minty, Nathan Mufale, Sasan Misaghian and Jing Jun Heng are handling the campaign. The price could be as high as $60 million, but they declined to comment.
However, Monash University recently paid $66 million for the similarly sized Toyota research and development centre at 611-625 Blackburn Road, Notting Hill.
Meanwhile, Biotech companies have signed up to 18,239 square metres of space at Spirit Super's Ferntree Business Park.
New tenants at the Notting Hill estate include Co-Labs, which will open a new 1200-square-metre co-working and co-located laboratory space in a re-purposed warehouse on the 8.5 hectare park.
Existing tenants Olympus Medical, Draeger and Johnson & Johnson have also signed up for new purpose-built space.
Draeger has committed to 9067 square metres of space on a ten-year term, while Olympus has signed a fresh 12-year lease for 4629 square metres. Johnson & Johnston has taken up an extra 1695 square metres of new office and laboratory space.
Colliers agents Ash Dean, who negotiated the deals with Rob Joyes, said the latest wave of enquiries followed the opening last year of Catherics' new $4 million lab to develop cancer immunotherapy treatments.
"They moved into an office/warehouse that was previously occupied by 7-Eleven and completely gutted it. That really led the charge. One lease can generate interest from other people," Dean said.
Next door at Monash University, building is also well underway for Moderna's mRNA vaccine manufacturing facility.
Ferntree Business Park, on Ferntree Gully Road, was acquired by MTAA Super (since merged with Tasplan to become Spirit Super) in 2017 for $168 million.
It has 50,000 square metres of space across 10 buildings and was expanded recently with a six level 9650 square metres 4.5 star Nabers-rated office designed by Grey Puksand. Other features include a Quest hotel and on-site childcare.