Limiting Slovenian NBA superstar Luka Doncic was billed as being the difference between winning and losing but Doncic only had a modest night.
Instead, his teammates proved they were the more disciplined and better organised team leading from the opening seconds and never trailing.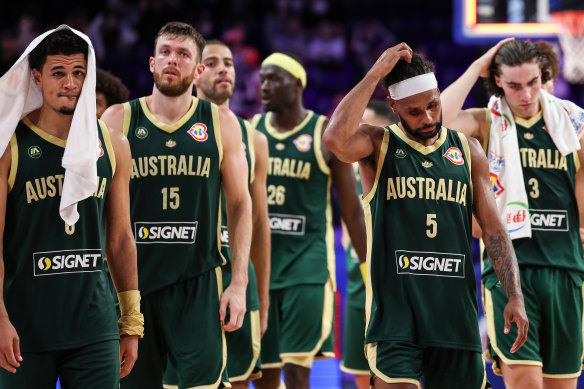 Doncic was good with 20 points, seven rebounds and six assists but was forced to the bench with foul trouble in the second quarter. It mattered not as centre Mike Tobey was irrepressible with 18 points and 12 rebounds and several other Slovenians stood up to make big shots when they needed to.
"I trust my teammates, they double-teamed me every possession and everybody made the right play," Doncic said.
"We stayed together. We are a great team I think."
What Slovenia did best was find the weaknesses in Australia's game and exploit them mercilessly as they guarded the basket and forced the team into taking too many dribbles and rushed shots from outside.
They also fouled regularly and denied the Boomers the chance to play fast and attack in transition as shown by Xavier Cooks going from 24 points last game to just two points and one rebound in this one.
That left too much for Josh Giddey (25 points) and Patty Mills (17 points) to do while Australia's outside shooting was again off the mark making just eight of 24 attempts.
Giddey found his groove in the third term and led a run that saw the Boomers move within two points of Slovenia early in the last quarter, but Slovenia snapped back to the task at hand and went on a 15-2 run to make sure of the win.
"With the size and athleticism they have and the way we dominated the game, our guys deserve credit," Slovenia coach Aleksander Sekulic said.
Loading
"Australia, they sometimes look scary but big credit to our players. Josh Giddey was almost unstoppable, but our guys were great today. Great teamwork."
The Boomers still have another crossover game to play against Georgia on Sunday night.
Mills and his team will be heartbroken, but the experience will serve them well for Paris with Giddey, Josh Green, Dyson Daniels, Xavier Cooks, Duop Reath and Jack White all either in their first tournament or their first tournament playing major minutes.
The loss of NBA centre Jock Landale to an ankle injury has hurt them badly, he alone would have made a big impact on Tobey's influence on this game while Ben Simmons has said he wants to play in Paris, if healthy and available.
Goorjian has already declared the road to Paris has begun and more change could come as the Boomers keep bringing in their next generation of players.
"I really like Daniels, that's another piece to add to this and we have Jock Landale to add to this," Goorjian said.
"Some big decisions are ahead, but I like what is in front of me."
News, results and expert analysis from the weekend of sport sent every Monday. Sign up for our Sport newsletter.