And that is what we witnessed from Camp Bang Bang, a Burning Man gathering founded by Bondi locals and still frequented by Australians each year. There was no panic, no hysteria, no rioting, no descent into uncivilised behaviour.
These days in the mud were testament to the decency of people. We shared fuel and water. We cooked pancakes for each other, gave gifts. When the deluge came on the first Friday, friends from Bang Bang were unable to return to our camp for two days. They were given refuge in another camp.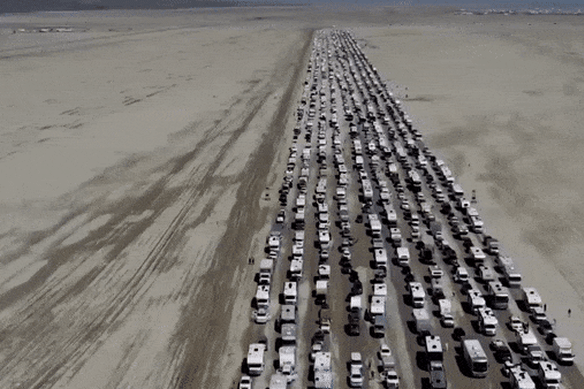 Because this is Burning Man, where you are greeted with more hugs than handshakes. A desert playground where the free-spirited journey from all over the world to embrace each other's weirdness. We dressed to impress, animalia being the theme. We witnessed some of the world's most mind-blowing DJs, interactive sculptures and art pieces. On Tutu Tuesday, we were faithful to the traditional dress code.
At Camp Bang Bang, to celebrate the triumph of our time in the mud, we put out the word and 500 arrived. A shoes-off policy kept out the mud. Some of the best DJs headlined at our party: Lee Burridge, who couldn't reach the main stage, and Bondi's own Richie Penny blowing up the decks.
Hell? No. We relished being stuck in this mud. We wouldn't change a thing about it. OK, perhaps the toilets.
Kate Feneley is a graphic designer from Bondi. Wade Bartlett is a startup entrepreneur. They co-authored this article with their fellow burners from Sydney, Dalbs Hutter and Ryan Johnstone.
The Opinion newsletter is a weekly wrap of views that will challenge, champion and inform your own. Sign up here.