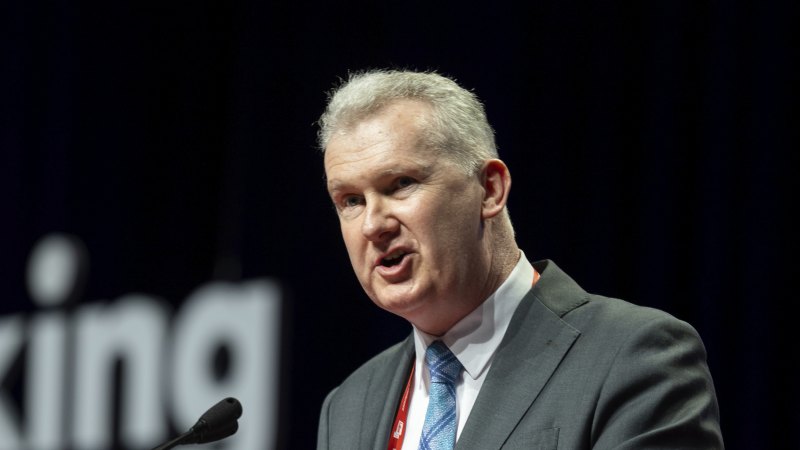 "Underpaying people is cheaper – yeah, it is. Slavery is probably cheaper, too," he said.
"There is some modest pass-through here. We are talking about some of the lowest-paid people in Australia. And if that means there's a tiny bit extra that you pay when the pizza arrives to your door, and they're more likely to be safe on the roads getting there, then I reckon it's a pretty small price to pay."
The draft law, to be called the Closing Loopholes Bill, would give the delivery drivers the right to go to the Fair Work Commission to seek higher pay and better conditions, breaking with current rules that treat them as contractors rather than employees.
A second part of the bill will set a new definition of casual workers so they can apply to their employers every six months if they choose to seek to be made permanent.
Asked if this meant workers could seek back pay if they became permanent, Burke said any amount owed would be offset by whatever had been paid to workers in the past.
"So the concept of there being some big liability coming to business – no, we've ruled that out," he said.
"Underpaying people is cheaper – yeah, it is. Slavery is probably cheaper, too."

Employment Minister Tony Burke
Business Council of Australia chief executive Jennifer Westacott said the changes to casual workers could have the biggest cost impact on the economy, given that 23 per cent of workers were casual and the "incredibly complex" changes would discourage hiring.
The previous government estimated the back pay in some scenarios could cost up to $39 billion. Business groups are waiting for the draft bill next week to determine if they will avoid this cost.
Loading
A third part of the bill will impose "same job, same pay" rules to try to prevent a company from using a contractor that pays its workers a lower rate than the company pays its own workers for the same task.
While Burke would not reveal how the "same pay" would be decided by the Fair Work Commission across various pay rates and conditions, business groups expect a "multifactor test" of up to 12 points that would determine challenges in the courts against the workplace umpire's rulings.
Minerals Council chief executive Tania Constable said the "same job, same pay" changes would impose the greatest costs on the economy from the draft bill, citing a warning from BHP that it would lose $1.3 billion if the plan became law.
"We have examples right across the industry where we're talking about that sort of magnitude," Constable said.
Australian Chamber of Commerce and Industry chief executive Andrew McKellar and Ai Group chief executive Innes Willox said the bill as a whole should be blocked.
"It will lead to increased cost, increased complexity, less employment," Willox said. "And, unfortunately, the laying off of thousands of people across the economy over time."
Council of Small Business Organisations Australia chairman Matthew Addison joined the big employer groups in opposing the draft law, saying the changes would impose higher costs and more regulation on small companies.
Cut through the noise of federal politics with news, views and expert analysis. Subscribers can sign up to our weekly Inside Politics newsletter here.