For example, they referred to the striking charge against Gold Coast defender Charlie Ballard, who wasn't suspended after his striking charge on Essendon's Matt Guelfi was downgraded from intentional conduct to careless, resulting in a fine.
Crucially, Ballard's case was ruled by the match review officer as "low impact".
At the tribunal, McKay's advocate, barrister Peter O'Farrell, argued that his actions were merely a push to "disturb the accuracy of the kick" relating to Sheezel's disposal of the ball.
"This was a pushing motion, and not a strike," O'Farrell said.
He acknowledged that McKay's actions may appear "a bit clumsy", but said the incident went very close to not even being a free kick.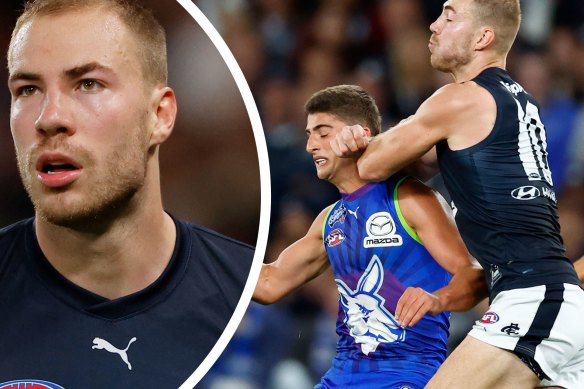 "If the contact remained on the shoulder, this would not have been a reported offence. It probably would not have been a free kick," O'Farrell said.
"The other thing to note is that at all times McKay remains on the ground.
"On the benefit of hindsight, it does appear a bit clumsy and awkward."
McKay, the 2021 Coleman medallist, stressed that this intention was to apply strong defensive pressure.
"I'm just trying to chase and apply [defensive] pressure," he said.
McKay was quizzed about whether he was able to slow his momentum once Sheezel had got his kick way.
"I'm well within my right to go as fast as possible to impact that kick," McKay said.
"My only real option was to out-stretch my body and affect his kick.
"There was never any intention to hit him anywhere else but the arm."
Moments after the contact McKay raised his arms in a sign of regret. But the Coleman Medal contender said, rather than having concerns about Sheezel's welfare, he was simply lamenting giving away a free kick.
"I'd accept that I was careless in giving away a free kick," he said.
McKay said using his arms, instead of his hands, to impact the kick was a deliberate tactical choice. McKay also said he spoke to Sheezel during the match.
"Roughly two minutes later …. I was happy to hear that there was no damage done," McKay said.

The AFL's tribunal counsel, Andrew Woods, said there was a risk the young Roo could have suffered a head injury.
"He [McKay] raises both arms to his chest height moments before the impact," Mr Woods aid.
"Once Sheezel disposes of the ball …. McKay could have taken steps [to avoid contact].
"It's clear from the medical report that Sheezel didn't suffer any ongoing injury.
"[But] there was a real potential for him to cause a serious injury.
"It could easily have been accidentally slightly higher and Sheezel could have suffered a concussion."
Tiger Lynch cleared at tribunal
Injured Richmond spearhead Tom Lynch has been dramatically exonerated of a rough conduct charge at the AFL tribunal, his clash with Bulldog Alex Keath ruled as unavoidable.
The important forward, out for up to three months after suffering a broken foot in the same match, was facing a three-match ban but, instead, was praised for his "cogent and emphatic" evidence.
"We find that Lynch attempted to fly for the mark … saw a Bulldogs player in his [vision], rotated and avoided [significant] contact," tribunal chairman Jeff Gleeson KC said.
The tribunal panel ruled that Lynch, despite pulling out of a marking contest, did not take his eyes off the ball.
Premiership player Lynch gave evidence that he'd jumped off his left leg, but soon realised he'd misjudged the flight of the ball.
"My focus was solely on the football," Lynch said.
"It was too late to stop [the jump].
"I was running straight towards the football."
While the AFL's advocate Andrew Woods said Keath was in a vulnerable position, compelling evidence from Lynch and his team ultimately saw him cleared.
Lynch's advocate, Sam Tovey, argued passionately that the Tiger never took his eyes off the ball and he acted responsibly when it was clear contact with his opponent was inevitable.
"As he goes to jump, as that left foot is planted …. That's the point that he becomes aware that he's gone a little bit under [the ball] and he's aware of the other player," Mr Tovey said.
"This was a brace, rather than as Mr Woods [the AFL's advocate Andrew Woods] put it, was a decision to bump.
"Tom Lynch hasn't chosen this situation …. It's a situation that came to him that was completely unexpected."
Mr Vovey argued, too, that Lynch used various techniques to minimise contact.
"He turns himself side on …. he doesn't make a fist … he doesn't drive through with his shoulder.
"It's consistent with someone only doing what is necessary to protect themselves.
"Unfortunately that contact was to the head of an opposing player."
Bans for Geelong's Rohan and Hawthorn's Day
Two players – Geelong's Gary Rohan and Hawthorn's Will Day – face suspensions stemming from incidents of alleged rough conduct during the Easter Monday match at the MCG.
Cats forward Rohan has been banned for one match after the AFL's match review officer ruled his second quarter clash with Hawk Changkuoth Jiath constituted careless conduct, medium impact, high contact.
Jiath's teammate Day was hit with a two-game suspension over an incident with Cat Bradley Close, deemed careless conduct, high impact and high contact.
Both clubs are expected to indicate on Wednesday if they'll challenge the bans.
Carlton's body blow with Docherty out at least a month
The Blues have suffered a body blow as they look to consolidate their season after an unbeaten start, losing defender and former co-captain Sam Docherty for up to six weeks with a knee injury.
The 29-year-old reported knee soreness after the Good Friday win over North Melbourne and has had surgery to repair a meniscus tear.
Carlton's head of football Brad Lloyd said Docherty, who played 22 matches last year after returning to football following his battle with testicular cancer, could return from his knee setback in as little as four weeks.
"It's no doubt disappointing for Sam to be sidelined for the coming weeks, given he picked up this season right where he left off last year – in great form," Lloyd said in a statement.
"He's the ultimate professional though, so once he completes surgery, he'll launch into his rehab and do everything required to get back to play, which we expect to be in four to six weeks."
Keep up to date with the best AFL coverage in the country. Sign up for the Real Footy newsletter.