The Star Entertainment Group has plummeted to a full-year loss of $2.44 billion, driven by a writedown in the value of its Sydney, Gold Coast and Brisbane casinos.
The company revealed a $2.2 billion non-cash impairment of the three properties as it grappled with the effects of two damning state inquiries, four shareholder class actions, looming multimillion-dollar fines and two revoked state casino licences.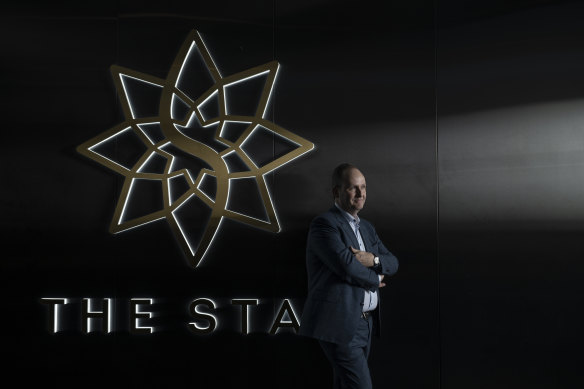 The Star revealed revenue increased by more than 20 per cent to $1.9 billion following the COVID-19 affected year prior. Its statutory earnings before interest, tax, depreciation and amortisation jumped by almost 35 per cent to $317.4 million, slightly above its April forecast of between $280 million to $310 million. The group pushed back its earnings announcement by almost a week to account for the NSW government's revision of a controversial poker machine tax it inherited from the Coalition.
Chief executive Robbie Cooke said it would be an understatement to call the year challenging.
" The consequences flowing from the damage to our social licence are felt daily by team members at multiple levels, reinforcing the critical need to understand the privilege and responsibility that comes with holding a casino licence," Cooke said.
Loading
It was a torrid year for The Star, marred by poor results for its flagship Pyrmont casino. Star Sydney's earnings were impacted by operating restrictions, bolstered competition from Crown Resorts with the opening of its new casino in Barangaroo, and weaker consumer spending. The group's Queensland properties offset the loss in Sydney towards the beginning of the year, before demand there also eased off due to weaker domestic tourism in the region.
Cooke took leadership of the group the day Star Sydney's casino licence was suspended in October following damning findings by a NSW independent inquiry into anti-money laundering and counterterrorism failings first exposed by a 2021 investigation by this masthead. He said on Tuesday remediation is the group's number one priority.
This masthead revealed last month NSW treasurer Daniel Mookhey will defer the full implementation of poker machine duty rates in casinos until the end of the decade so long as Star Sydney guarantees the jobs of its 3500 strong workforce for the same period. The Star has said repeatedly it would find it difficult to keep Star Sydney's doors open if the original tax proposal developed by former treasurer Matt Kean was introduced.