A 2016 international arbitral decision that invalidated the expansive claims didn't stop China from reclaiming and building on those maritime features.
Loading
The Philippines described Beijing's 2023 map as the "latest attempt to legitimise China's purported sovereignty and jurisdiction" in maritime features that the Philippines also claims, while Vietnam said the map violates its sovereignty over the Spratly and Paracel Islands.
Taiwan also opposed the territorial claims outlined in the map, saying the island has never been under the Chinese Communist Party's control.
"Taiwan is absolutely not part of the People's Republic of China," Foreign Ministry Spokesman Jeff Liu said at a briefing on Thursday. "No matter how the PRC distorts its stance on Taiwan's sovereignty, it can't change the objective fact of our country's existence."
While neighbours expressed their outcry, Indonesia's Foreign Minister Retno Marsudi said the country's stance on this issue isn't new.
"Whatever boundary, whatever claim, has to comply with UNCLOS," she said, referring to the United Nations Convention on the Law of the Sea.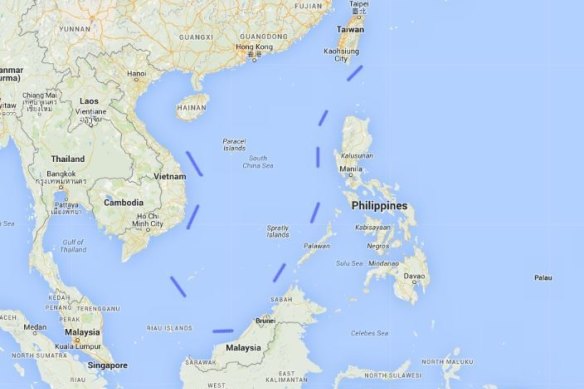 On Tuesday, India said it lodged a "strong" diplomatic protest over the map, which shows parts of the Indian state of Arunachal Pradesh under China's control, expanding from a move in April to rename 11 areas in the region as part of southern Tibet.
Aksai Chin, a disputed plateau in the western Himalayas claimed by India but controlled by China, was also included.
China's Ministry of Foreign Affairs spokesman Wang Wenbin didn't directly respond to a question about the "10-dash line" during a regular briefing on Thursday, saying that China routinely publishes maps for public awareness and use.
"We hope that relevant sides can see that in an objective and rational way," Wang said.
The 2023 map won't make much difference in China's behaviour in the South China Sea, according to Pitlo.
"If any, the new map may offer another justification for its claims and activities in hotspots like the South China Sea," he said.
Bloomberg