So while all the state premiers and chief ministers signed up to back the Voice back in February, the referendum will likely come down to Australia's two smallest states by population – Tasmania and South Australia.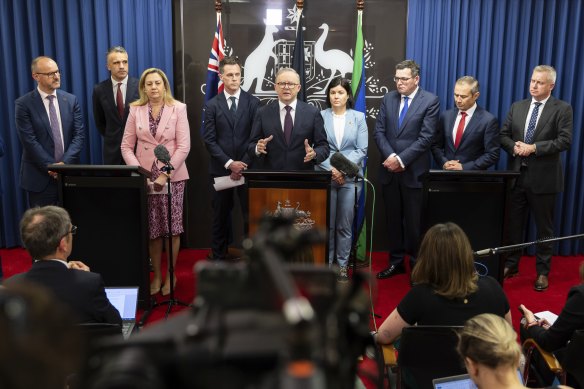 On the first full day of the Voice to parliament referendum campaign, Anthony Albanese was in Tasmania – the smallest state in the country – courting the Yes-supporting Liberal premier Jeremy Rockliff.
The pair appeared side by side, along with independent MP Andrew Wilkie and a clutch of Labor MPs, less than 24 hours after Rockliff's deputy, Michael Ferguson, revealed he would be voting No.
Rockliff, for his part, said he respected people who would be voting No, but Australians "need to acknowledge and recognise where we have failed First Nations people and Indigenous Australians".
"The gap is too large when it comes to educational attainment, incarceration rate, health data. And we can do better," he said.
"My conviction is very clear on support for the Yes vote."
South Australian Premier Peter Malinauskas, who was one of the stars of the Yes campaign launch in outer suburban Adelaide, said he is "optimistic, but I'm not naive" about the scale of the challenge ahead.
"I do think South Australians want to know more about it. And when they learn about the simplicity of the proposition, I think they're increasingly inclined to vote Yes, but there's a job to be done," he told this masthead.
A spokesman for the No campaign said the apparent reluctance of some premiers to campaign was "explained by the fact they know this thing is on the nose".
Loading
"Premiers can read polls. Labor Party insiders would be concerned about nailing their colours to the mast given how much trouble this proposal is in," the spokesman said.
At the start of the formal campaign, the contrast between the efforts of Malinauskas and Rockliff on the one hand and Minns, Andrews, Palaszczuk and Cook on the other is stark.
Six-and-a-half weeks out from polling day, Albanese will be hoping the larger states find the courage and conviction that the smaller states' leaders clearly have. Whether they do or not could prove decisive.
Cut through the noise of federal politics with news, views and expert analysis from Jacqueline Maley. Subscribers can sign up to our weekly Inside Politics newsletter here.