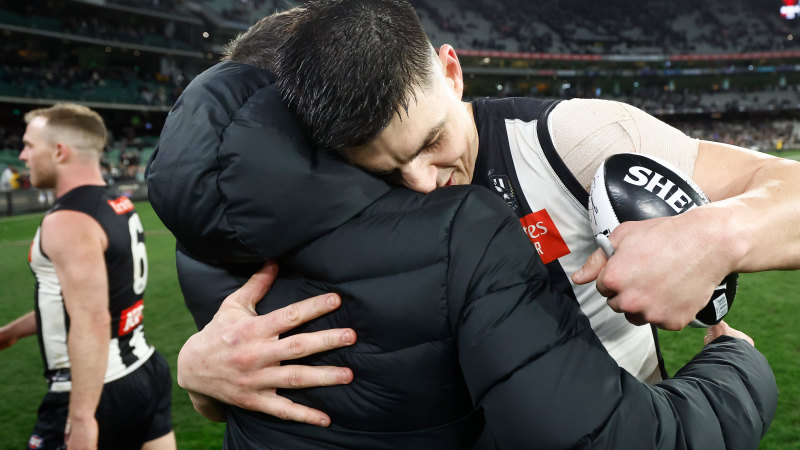 Brayshaw applauded the crowd and gave a thumbs up as he left the field, but Goodwin said the player was "upset" at the prospect of missing finals.
Brayshaw's career was in jeopardy in 2017 when he took time out of the game after four concussions in 12 months, but he has rebounded strongly, missing just six of a possible 137 games since.
Goodwin struggled to contain his emotions discussing the incident.
"I guess that'll be sorted out during the week, but we've got a pretty shattered player in there," Goodwin said, pausing to compose himself.
"Yeah look, you can only go by the facts. He jumped off the ground and knocked the guy out. So I guess time will tell.
"He's [Brayshaw] upset. He's obviously had a history with concussion a long time ago. He's obviously dealing with some emotion there. But he wants to play finals footy. He's going to be missing for a few weeks and it's disappointing."
Loading
Melbourne midfielder Alex Neal-Bullen said: "I am not going to comment on that. I don't want to pour hot water on that. I haven't really seen the contact too well but I am sure the AFL will deal with that."
An upset Maynard, who was booed by Dees fans every time he touched the ball, said there was no malice in his actions.
"I don't want to say too much, but it's a footy act," Maynard told Channel Seven. "I came forward, I jumped to smother the ball and yeah, unfortunately, I just got him on the way down. So I don't know.
"We'll have to wait and see what happens. I absolutely love that guy to bits. So yeah, it's shattering what happened."
Collingwood coach Craig McRae, who wished Brayshaw well, defended his player.
"Then the act itself, it did not look like it had too much malice but I'll leave it up to others to decide whether it's worthy of a suspension or not," McRae said.
The MRO will also look at Van Rooyen's clash with McStay, in which the Demons forward made contact with the upper part of his arm to the Magpies forward's face. McStay missed part of the game to undergo a concussion test, which he passed, and played out the match.
"I haven't seen too much of it but I'm pretty sure McStay stayed out on the ground," Goodwin said.
Already without Harrison Petty and Jake Melksham to injury, the Demons cannot afford to lose another forward after a night in which they struggled in their front half. The Dees booted only seven goals from 69 entries inside 50 after dominating play from midway in the second quarter.