Jones is excited about the prospect of watching Suaalii on the Origin stage.
"The league recruits we had in the past, Wendell Sailor, Lote Tuqiri and Mat Rogers, all were brilliant at Origin," Jones said. "It's a true test of a league player, and they showed they could cut it there, and it would be good to see Joseph in that same arena.
"I think if you can handle what Origin throws at you, it shows you will be able to handle Test rugby. It's the highest of standards and it would be great to see him make it into the Blues side and then play well."
Chicken out
Jason Ryles is taking serious steps towards a first-grade coaching role. He is seeking advice from significant figures in the game about the step up as he tries to get his head around which job he should focus on: the Storm after the stellar Craig Bellamy era ends (likely at the end of this year), or the Dragons, following some indifferent years under Anthony Griffin.
More than that, Ryles has started making moves to get out of his contract with the Roosters.
There was a high-level meeting between his agent, George Mimis, and Roosters chairman Nick Politis recently. The obvious discussion point was the fact Ryles has another year on his contract at Bondi Junction.
It is not a new dilemma for the Roosters, or coach Trent Robinson. In recent years they have watched Adam O'Brien and Craig Fitzgibbon move on to first-grade roles. The way each exited was vastly different: O'Brien's exit was handled poorly; Fitzgibbon went with the club's blessing at the end of his deal.
There is a very real possibility the Roosters will seek compensation from whichever club Ryles signs with, and that's fair enough.
Should Ryles go, it will open up a significant opportunity to work with Robinson.
Dragons deja vu: News Corp reheat Griffin plays to push Flanagan
When the Dragons last made the decision to sack a coach, the News Corp media campaigned hard to get the replacement it wanted, Anthony Griffin.
History is repeating with a News Corp push on for Shane Flanagan to get the St George Illawarra job, and the situation is remarkably similar to the one that played out three years ago.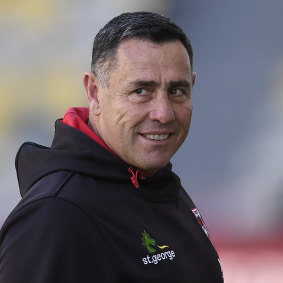 There was a real desire to promote Griffin, which had little do with his coaching ability, and it's not Griffin's fault. He was adopted by the News Corp media because he was sacked by Penrith. Because Phil Gould was the Penrith boss at the time it was easy for News Corp to make a case that it was his decision, so Griffin became their darling. My information is there were others at Penrith who wanted Griffin gone, but that does not suit the narrative.
So Griffin became a coaching candidate with strong backers in the print and electronic media. And the Dragons bought in.
That was despite plenty of critics – this column included – questioning the appointment. He could do no wrong in the eyes of his backers, but now that he is battling to hang on to the job – with a decision seemingly already made on his future – those backers have deserted him.
Griffin has been cut by many of his supporters after years of middling results. Some have even turned on him and want him gone as soon as possible. The new push is for Flanagan, who works for Fox Sports – which is part owned by News Corp – as a commentator. Flanagan was torn to shreds by many at News Corp during the ASADA supplements scandal and the following indiscretions when he was coach at Cronulla. However, that has been conveniently forgotten now he is a contender for the Dragons job.
In the background is the disappointment from Flanagan that he was not considered to coach the Bulldogs, where Gould is now general manager. But Flanagan has also been overlooked for several other jobs.
You'd have to wonder how Flanagan will be treated by News Corp if he got the Dragons job and failed.
The difference between Griffin and Flanagan, on the surface, is that Flanagan is a premiership winner. He also has success in rebuilding a club. He did it all at the Sharks, from rebuilding the gym to overhauling a roster while the club was going through the biggest crisis in its history. There is no question Flanagan can coach, but there's a stigma about his ability to play within the rules, given he has been suspended twice by the NRL.
Loading
Some at the Dragons have not forgotten those indiscretions, and there are some at the NRL who have their doubts, too.
Harder still for Flanagan is some resistance on the Dragons board. Former chief executive and current board member Peter Doust is not a fan, but not all on the Dragons board are Doust fans. It's too early to say the board is split on Flanagan – he is yet to even apply for the head coach job – however, on coaching ability alone, he could have walked into other jobs and should be a favourite at the Dragons but, sadly for him, there are many who judge him on his past.
'Sting' in tale for Gift rookie Mundine
Kieran Mundine nearly pulled off one of the great sprinting upsets when he ran a stunning race in the Stawell Gift final on Monday – his first event as a runner. Mundine's coach, Roger Fabri, is now pushing him to consider a track career.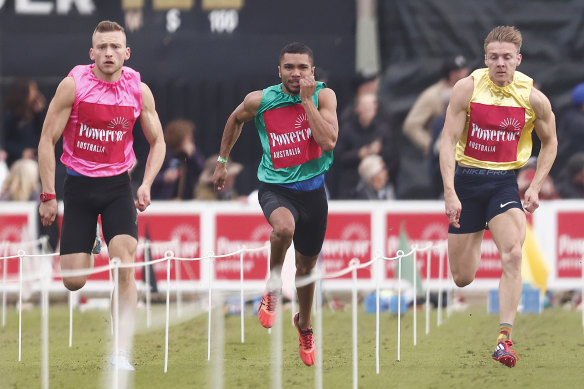 Mundine – the cousin of former boxing world champion and rugby league star Anthony Mundine – finished fifth in the $40,000 final after starting off six metres, but was just 0.17 seconds behind winner Ryan Tarrant.
"We tried to pull off a sprinting sting," Fabri said. "No one had heard of him and we hid him so the handicapper had no idea of his ability. If it wasn't for a huge stumble in the race, he would have shocked the entire athletics community.
"He could have won the race. It was a phenomenal effort to make the final and with a bit of luck it could have been a moment in time."
Mundine is hoping to make it in rugby sevens. "I'm trying to convince him to get serious about running," Fabri said. "He's trying to make his mark in rugby but I'd like him to run."
Injury a big deal
Adam Doueihi's knee injury has devastated Wests Tigers, but it has had a wider effect.
Doueihi suffered a third ACL tear in five years in the same knee in Monday's loss to the Eels. I was with his junior team, Strathfield Raiders, on Wednesday and all the officials and parents sang his praises. Doueihi puts plenty into his junior team and it has been appreciated by all involved.
Doueihi is in a tough position after signing only a one-year contract extension with the joint venture. There is a thought he did that as he plans to manage himself. He was banking on a good relationship with Tigers chief executive Justin Pascoe to ensure future deals were healthy. With an uncertain future, it will be interesting to see if the Tigers back him.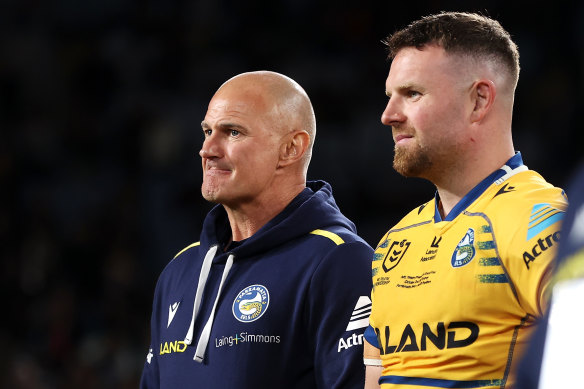 Spray Hadley
We told you last week about Penrith's outrage at Fox Sports following attacks on their players and coach. Well, they aren't the only ones. Parramatta have taken a stand against a media organisation that targeted the club.
Radio 2GB host Ray Hadley is a Parramatta man, but not a fan of coach Brad Arthur, and has made his feelings known for many years. His comments on a show hosted by Mark Levy led to the Eels stopping players appearing on 2GB programs. After behind-the-scenes discussions with 2GB heavyweights, that relationship appears to be back on track, but there is no repairing the rift between Hadley and Arthur, who has been whacked by the radio host for team selections and failing to deliver a title. Arthur is well within his rights to avoid Hadley's show and anything related to what he does.
Loading
Rising with the son
Cody Walker cops plenty for his angry approach on the field, but he is a different man off it.
Walker is a doting father who doesn't miss his son's sport even after a Friday night game. He is courtside at 8am on a Saturday watching Kade do his stuff for the Redfern All Blacks basketball team, even after a torrid clash the night before.
Speaking of fatherhood, Australia and NSW captain James Tedesco is working hard on leadership and is about to embrace another huge part of his life: becoming a father for the first time. His wife, Maria, is expecting a baby girl.