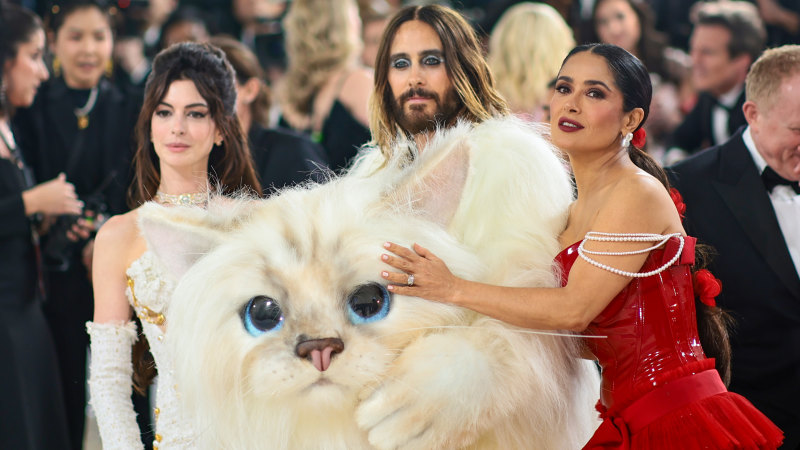 The surprises stopped when celebrity stylists went straight to the Chanel archives. Kidman's fashion callback, adorned with 250 pink feathers and 3000 silver crystals and sequins demonstrated her enduring slender figure but fell flatter than husband Keith Urban's straightened hair.
Loading
Dua Lipa came closer to hitting the Karl-shaped mark in an ivory wool tweed dress, originally worn by former Chanel muse Claudia Schiffer on the runway in 1992. The Break My Heart singer accessorised the outfit with a Tiffany & Co. necklace with a central diamond of more than 200 carats, but unfortunately ditched the whimsical miniature boater hat and bolero jacket modelled by Schiffer.
Actor and frequent Chanel model Kristen Stewart joined Broadway actor Ben Platt, A$AP Rocky and rapper Jackson Wang in adopting Lagerfeld's uniform, embracing the masculine tailoring of a bolero jacket and trousers from Chanel's 2016 cruise collection.
Even Margot Robbie's Chanel gown with plastic panels and pearls, originally worn by Cindy Crawford during the spring 1993 runway show, was absolutely adequate.
Everything honoured Karl, but lacked the unique flair Lagerfeld brought to his collections for Chloe, Fendi, Balmain, Patou and Chanel. This was the impresario who staged a runway event on the Great Wall of China in 2007 and installed a 265-ton iceberg on the Paris runway for a Chanel show in 2010, with snow imported from Sweden.
By comparison, Leto's cat suit and Lil Nas X in a g-string were never going to make a lasting impression.
Pre-publicity for the gala set the red carpet up for failure, with unrealised rumours of Meghan, Duchess of Sussex on the invitation list and Dune actor Timothée Chalamet holding beauty entrepreneur Kylie Jenner's hand on the red carpet. Instead, Jenner wore a bright red dress inspired by Jean Paul Gaultier and King Charles doesn't have to worry about having his coronation outfit upstaged by his daughter-in-law.
The search for stimulation became so great that photographers fixated on a cockroach crawling the red carpet, before a heel brought their 15 minutes of fame to a close. Cockroaches might be incredibly resilient, but even they can't survive the Met Gala.