"There was potential for a concussive injury and that combined with the actual force is sufficient to warrant a finding of medium impact."
In his evidence, Adams said: "I'm doing everything I can to minimise impact.
"I know he's in a vulnerable position and it's my duty of care to make sure the impact he experiences isn't severe and thinking about myself as well so that I don't get injured.
"I've tried to slow down the fall by moving my centre of gravity outwards. I'm putting my arm down to brace for both of our falls."
Gleeson noted how it was new ground for the tribunal, a "novel" case that required some maneuvering. In any case, Gleeson took at least 10 minutes out of the hearing to prepare instructions for the panel.
"Many tackles in the modern game involved more than one player," the tribunal noted.
"There needs to be a sufficiently clear understanding of the process to be undertaken."
Collingwood simply sought to have the impact classification downgraded, but the participation of two teammates was a major part of the evidence heard.
The club's player advocate, Stephen Russell, said: "This particular facts of circumstance requires legal gymnastics and a crystal ball … these two other players were involved in the tackle."
'Honest and forthright' evidence doesn't help Merrett
Essendon will be without their skipper for their biggest Anzac Day match in years after Zach Merrett's tackle on Melbourne's Thomas Sparrow was deemed worthy of a one-match ban.
The AFL tribunal upheld the match review officer's classification that Merrett's tackle in the final quarter at Adelaide Oval on Saturday was careless conduct, high contact with medium impact.
Merrett was praised for his "honest and forthright" evidence, but it didn't sway the tribunal panel, made up of Gleeson, Stephen Jurica and Stewart Loewe, that the Demon was in a vulnerable position with his head likely to hit the turf.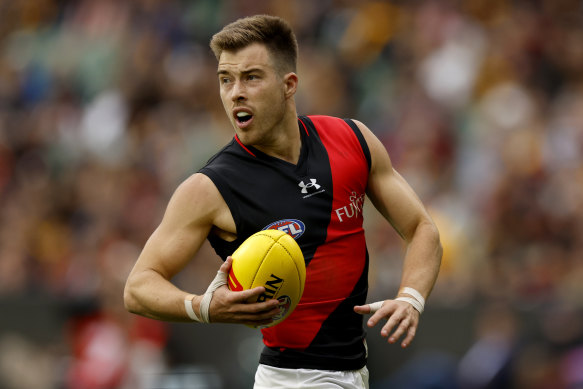 "There was a real risk of Sparrow's head colliding forcefully to the ground. That was what happened," Gleeson said in conclusion. "We found that it was dangerous tackle."
Essendon was first pleading not guilty to the rough conduct charge but, secondly, arguing it was low impact instead of medium.
Merrett, who spoke of the slippery conditions at the time, said he was trying to execute a "normal tackle" and was trying to drag the Demon on top of him.
The AFL's counsel, Nicholas Pane, KC, prosecuted the case that Merrett's actions were "inherently dangerous", with the Demon driven "forcefully into the ground".
"Is this tackle unreasonable in the circumstances?" Mr Pane asked as part of his submission.
"The player is in a vulnerable position with his arms pinned – it does have elements of that.
"If you're holding on to the back of the jumper and pulling them to the ground … it's inherently dangerous."
Merrett, in a case with some parallels to the rough conduct charge that Hawthorn's Will Day was found guilty of, couldn't convince the tribunal to alter the impact classification.
Day was hit with a two-match ban, while Merrett's slightly lower impact grading meant a one-game ban.
Merrett conceded that Sparrow's head hit the turf – a fact that all parties agreed with.
"I felt like I came in with some momentum [before the tackle] … four or five metres run up," he said.
"I went to conduct a normal tackle. I felt like I grabbed onto his jumper, not knowing it was a high tackle. My momentum kept going backwards. In that moment, I didn't feel like he was in a vulnerable position … It wasn't a double movement."
Merrett said he was trying to win a free kick with his strong tackle.
He said players were "massively" taught the safety implications of conducting a tackle with the right technique.
Asked whether he agreed that Sparrow's head hit the ground, Merrett said: "Ah, yes, I can see it there. [But] I respectfully disagree that I was pulling his head to the ground.
"I think it's difficult, in that moment, … It's difficult to judge or remember how hard I'm pulling [him] down."
Caminiti hit with three-game ban
Young St Kilda forward Anthony Caminiti has been banned for three matches, with his strike against Collingwood opponent Nathan Murphy ruled as careless rather than intentional conduct.
The Saints mounted a strong case at the tribunal that Caminiti, in his fifth AFL game, wasn't guilty of a premeditated action.
Gleeson observed that Caminiti, after his act to make contact with his forearm on Murphy, didn't look back at him.
"Accordingly we do not find that this was an intentional strike," Gleeson said.
"Murphy's body lowered before impact and that appears to have contributed significantly to Caminiti's forearm contacting Murphy's head instead of his chest.
"We also note that at no time after impact does Caminiti even glance down at Murphy, who is lying motionless on the ground.
"This is consistent with a player who did not intend to strike and who did not realise he had struck his opponent to the head."
Throughout this evidence, Caminiti said it was part of his forward craft and training to create "separation" with his opponent by pushing off.
Caminiti gave evidence that Murphy's position had dipped in relation to him at the critical moment.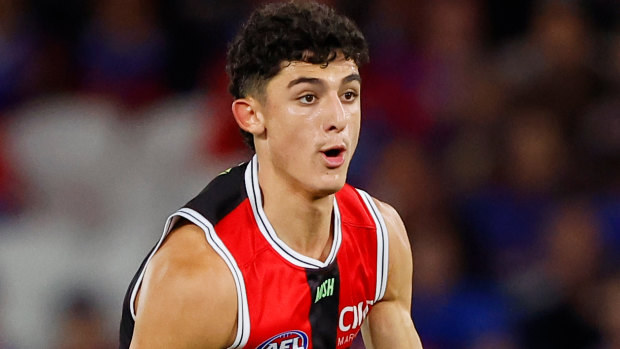 "I guess because it was such a quick moment," Caminiti said, "I wasn't able to assess that he had dropped [in height] … Making that instead of hitting his chest, I hit his chin."
He said he used the tactic multiple times during the match, an important contest that Collingwood won narrowly by six points.
"As part of my craft as a forward I've been taught to create space," Caminiti said.
"During the game at the weekend I would have performed the action at least five times.
"The force has never varied … the force during the incident would have been the same as the force during the game.
"It is an attempted push to the chest with my forearm."
The vision showed Murphy forcefully pushing Caminiti in the chest during the final quarter on Sunday and the Saints forward responding with a raised forearm that felled his opponent.
But Caminiti denied it was an act of retaliation.
"Not at all. That was definitely not my intention," said Caminiti said.
"My way to create separation from my opponent was to perform the action that I did."
There was also a text message exchange between the pair on Sunday night.
"I was very remorseful. I wanted to tell him how sorry I was for the action … I wanted to apologise for what I did," said Caminiti.
Caminiti landed at St Kilda during the supplemental selection period and has played a key role in a makeshift forward-line over the opening five rounds of this season.
Murphy is set to miss Anzac Day under the league's concussion protocols.
Eight cases have already been before the tribunal this season. Day was unsuccessful last week in his attempt to overturn a two-week suspension for a dangerous tackle, which was graded as high impact, while Nathan Broad copped four weeks in round two for a tackle graded as severe impact.
Geelong last week accepted a one-week ban for Gary Rohan, which was graded the same as Adams' and Merrett's tackles.
The Pies have already ruled out Mason Cox from returning for the feature match, while Dan McStay injured a finger tendon against the Saints, leaving the Magpies thin on tall stocks.
Nathan Kreuger is a chance to return to the senior side, after playing his first VFL game on Sunday for Collingwood, while Jordan De Goey is all but certain to play after he was a late withdrawal for the Saints match with illness.
Keep up to date with the best AFL coverage in the country. Sign up for the Real Footy newsletter.