Maguire launched the Father Bob Maguire Foundation in 2003 to provide food relief, social inclusion and educational support services "so that no one is left behind". He was also a devoted Collingwood supporter.
His foundation issued a statement on Tuesday denouncing "ill-informed" comments regarding Maguire's departure from the foundation. The foundation says he voluntarily stepped down owing to his health. Maguire had tweeted on Monday, "please help me survive ambush by treacherous frenemies".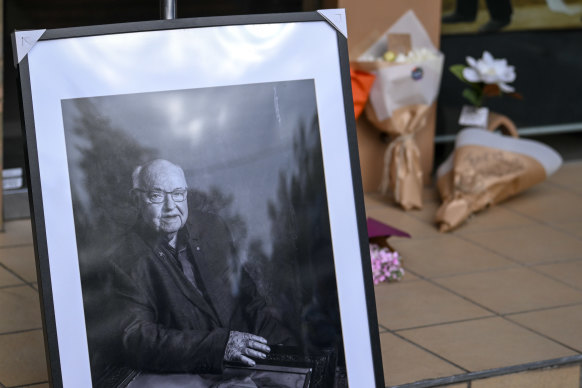 Speaking outside the Father Bob Maguire Foundation office in Albert Park on Wednesday, board member Frank O'Connor said the priest's legacy was the care he gave to society's disadvantaged and marginalised.
He said Maguire had recently lived at the Justin Villa aged care centre, but his health had been declining. He said medical authorities would determine his cause of death.
In answer to a question about whether Maguire deserved a state funeral, O'Connor said: "Bob wasn't always one who felt that authorities like governments did the best thing by the people, but he would probably be quite honoured with that sort of thing."
The Foundation will continue his work, and their commitment to the "outsiders", as Maguire called them.
Catholic Archbishop of Melbourne Peter Comensoli said he was saddened to hear of Maguire's, who was ordained in 1960, passing.
"Bob … [was] a fierce friend of the downhearted, the broken and the lost throughout his whole life," he said.
"Without a doubt, he was the 'larrikin priest' who had a great love for Jesus, who also lived with the outcast and the unloved.
"Recent months have been a struggle for Bob in both health and relationships. We pray that he is now at peace with his Saviour and Lord."
Victorian Premier Daniel Andrews said in a social media post that he had reached out to Maguire's family and his foundation to discuss the best way to mark his contribution to the state.
"His generosity wasn't confined to the walls of his church. Through his foundation, Bob provided thousands of meals every year, and he used his pulpit to advocate for those in need," he said.
"He spread his message of kindness on triple j, took to the street to protest, and was never afraid to pick up the phone and argue for what was right. Our state is a kinder, fairer place because of Father Bob. And we'll miss you greatly, comrade."
Federal MP for Maribyrnong and Minister for NDIS and Government Services Bill Shorten said Maguire would have been "the best pope we never had", and was never "constrained by convention".
Shorten was 15 when he first met Maguire and spent a week with him helping kids on the street.
"He would poke fun of those in power, but he never stopped fighting for those without power," Shorten said, adding, "I'm sure heaven has its gates wide open for you, but goodness knows they are in for a ride."
John Safran, who collaborated with Maguire on a variety of radio and television programs, including a 10-year stint as an odd couple of sorts on triple j's Sundays with Safran, said he was rattled by the news. He said the priest was, in reality, kinder and funnier than his public persona.
"More than being kind in broad brushstrokes, he was kind in small ways," Safran said.
"He attracted all manner of outcasts, not all pleasant, but he was open-hearted to those people too."
Safran told ABC 774 that Maguire was aware that not everyone wants to or feels comfortable inside a church, and he tried to make people feel comfortable.
"He was just such a wonderful guy," he said.
He said Maguire showed him how to "negotiate life when not everyone's coming from a good place.
"We can't just cut off everyone who is hard work and he just … he just sort of like showed me how to… be tolerant and also be understanding and also, how not to cut off people who are hard work."
Victorian Opposition Leader John Pesutto said Maguire was a larger-than-life character who dedicated his life to helping people in need. "He was much loved and will be much missed."
Loading
NSW Premier Chris Minns was among the first to pay tribute on Wednesday.
"Our nation has just lost a hero," Minns tweeted. "The people's priest. A social justice warrior. And a man who dedicated his life to faith and standing up for those most vulnerable. Vale Father Bob Maguire."
Home Affairs Minister Clare O'Neil, who represents Hotham in Melbourne's south-east, said Maguire "was a national treasure".
"He dedicated his life to standing up for our most vulnerable and for social justice. He was the people's priest," she tweeted.
Former Victorian Premier Jeff Kennett said in a social media post that Maguire was a character who would be mourned by thousands, regardless of their faith. "A life well lived, But an individual who will be greatly missed," he said.
Federal Labor MP Ged Kearney, who represents Cooper in Melbourne's inner-north, said Maguire was "an unstoppable force, he never missed a beat fighting for social justice and community".
The Collingwood Football Club – of which Maguire had been a member since 1974 – issued a statement saying the priest's commitment to feeding and housing the hungry and homeless extended to Collingwood's community programs.
"As an avid Pies supporter, Father Bob was a regular attendee of AFL matches in the Ponsford Stand at the MCG," it read.
"The Club acknowledges the impact Father Bob had on society – a man who committed himself to a life of faith and stood up for those most vulnerable."
Loading
Former Albert Park MP Martin Foley said the loss of Maguire was a blow to the "unlovables" who he supported and sustained over a lifetime of lived social justice. "May his example inspire us all to overcome poverty injustice and hate," he said.
Maguire's family said they would make funeral arrangements in due course.
The Morning Edition newsletter is our guide to the day's most important and interesting stories, analysis and insights. Sign up here.