Following Australia's home series win against South Africa, most of the Test players joined the Big Bash, further boosting its post-COVID revival, which left the shortest lead-up to an Indian Test tour in history.
Australia spent a few days training at North Sydney Oval on a scarified pitch and then on spinning practice wickets in Bangalore before the first Test.
"Ideally, they should have played a tour game," said Lehmann, now an assistant coach with the Brisbane Heat. "They don't like to do that because the tour match we played last time (2017) was on a green wicket.
"But it's still batting for a long period of times in the heat and getting used to the ball, things like that. So a tour game would have been handy ideally, but they decided to do the BBL didn't they, which was good for the Heat because we got Marnus and Uzzie [Usman Khawaja], but maybe they needed a tour game. It's easy in hindsight, though, isn't it."
Lehmann was delighted with the preparation a two-week training camp in Dubai gave his squad ahead of the 2017 tour. Australia won the first Test and had opportunities in the other three Tests before going down 2-1 in the series.
"It's a fantastic spot to prepare," Lehmann said of Dubai. "We were lucky enough to get there before going to India. We couldn't have been any better prepared, and we came close [to winning the series].
"Hopefully these guys can repeat that [2017 performance] and get back on track."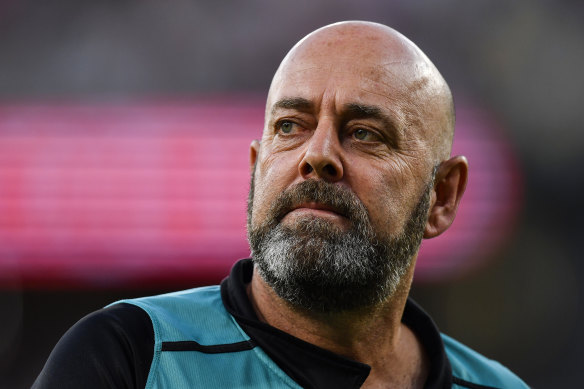 "You've just got to bat big because 177 is never going to be enough. It was turning, so you're trying to get to 250. If it was 250 it's a different game."
Australia had India 5-168 and 7-240 before the home side went on to make 400, aided by some sloppy fielding, with No.9 Axar Patel scoring 84 in more than four hours as part of a tail that wagged furiously.
Australia's top scorer in the first innings was Labuschagne with 49 and in the second innings Steve Smith with an unbeaten 25 as Australia were bowled out for 91.
News, results and expert analysis from the weekend of sport sent every Monday. Sign up for our Sport newsletter.