Much of the pullback in diesel demand can be tied to trucking, which consumes about 60 per cent of diesel in China and more than 70 per cent in the US. The number of trucks running on Chinese highways fell 8 per cent in the week ended April 9, according to data tracked by China's Ministry of Transport. Commercial diesel stockpiles nationwide excluding state refineries ballooned to an eight-month high in early April, according to OilChem data.
Loading
The demand drop comes after China's manufacturing activity eased unexpectedly in March, according to a private survey, leading a slide in factory gauges across Asia. Emerging markets in the region including Indonesia — where the government has started cutting subsidies for fuel — are also seeing demand weaken as growth slows, said Daphne Ho, senior analyst at Wood Mackenzie.
Similar trends are playing out in other parts of the world.
"European demand has been soft through winter on muted heating demand, and macro headwinds are clouding the demand outlook," said Koen Wessels, senior oil products analyst at Energy Aspects.
In the US, trucking — and therefore, diesel — consumption has been hit by a decline in factory output, home construction and retailers working off high inventories, said Bob Costello, chief economist at industry group American Trucking Associations. By one measure from supply chain intelligence firm FreightWaves, March trucking volume hit the lowest seasonal levels in five years.
At the root of the US trucking slowdown is a shift in consumer spending patterns: the steady stream of internet orders to fend off pandemic boredom has given way to vacations and experiences. As inflation squeezes household budgets, the first things people stop buying are what's known in the trucking industry as "high-volume shippers," or cheap consumer packaged goods such as softdrink.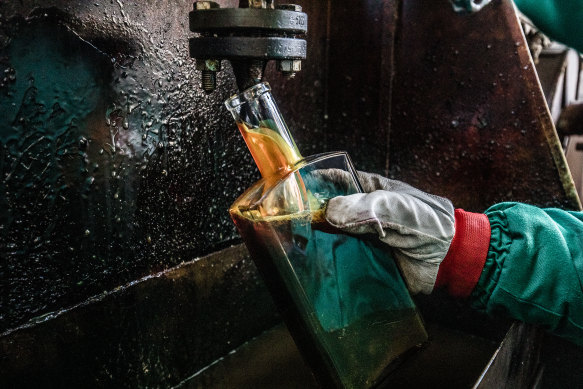 "Anytime we see consumers stretched because of inflation, that impacts the cheaper goods that tend to move in large volumes," said Craig Fuller, CEO of FreightWaves. Individual decisions such as skipping softdrink add up to a macro impact that reduces the overall volume of goods that move through the economy.
The drop in US diesel demand will be especially pronounced on the West Coast, where massive tech-sector lay-offs and an unfolding banking crisis have put the region under financial stress. There, diesel demand will slump 5 per cent this year, more than twice the national average, said S&P's Chowdhury.
US container imports, a bellwether of diesel use from the trucks and trains that move them around the country, are also under pressure. In Los Angeles, inbound shipments are at their lowest level since March 2020. In China, which is shipping out many of those cargoes in the first place, throughput of containers at key ports fell 5 per cent in the week ended April 9, according to data tracked by China's Ministry of Transport.
Loading
"We see more downside than upside to Chinese diesel demand in the second half of the year," said Mia Geng, head of China oil service at industry consultant FGE. "With global economic headwinds especially in the West, China will need to rely on domestic consumption to support its manufacturing activities."
To be sure, it's not all doom and gloom. Europe's demand for ultra low-sulfur diesel is set to rise almost 9 per cent between March and July, supported — in part — by summer travel, according to Janiv Shah, a senior analyst at Rystad Energy. French authorities will most likely refill strategic reserves eventually, having released millions of barrels of petroleum products in response to widespread labour strikes.
But in the US, short of a government stimulus to stoke the economy, FreightWaves' Fuller doesn't see demand for diesel returning anytime soon. Diesel demand is different from gasoline, where higher prices prompt drivers to pull back at the pump and cheap fuel can bring them back.
People don't move product simply because it's cheap to move, Fuller said; they do it because "there's somebody on the other end who has made the order and is there to receive it."
Bloomberg
The Business Briefing newsletter delivers major stories, exclusive coverage and expert opinion. Sign up to get it every weekday morning.