"When you lined up with the Liberals last time, to block the Carbon Pollution Reduction Scheme, what we saw was more emissions for longer because you voted with them," she said.
"I'm proud of what we're doing on this side to bring down carbon pollution.
"I'd like to say to the Greens that the best thing they can do to see emission reductions in this country is to back the safeguard mechanism. This is a legislated path that sees us reducing emissions by 43 per cent by 2030 on a credible path to net zero."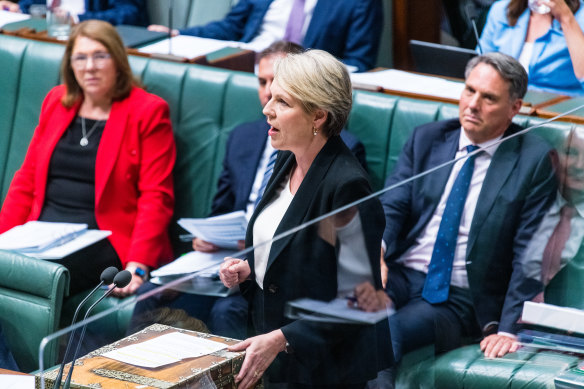 The Greens and the Coalition voted against the Labor emissions trading scheme in 2009, delaying action by several years, but the Greens later negotiated with Labor to pass a carbon pricing scheme that came into force in 2012. This was repealed by the Coalition in 2014.
Bandt has not released his proposed change to the Safeguard Mechanism (Crediting) Amendment Bill 2022 and experts said it was not clear how the provisions could be changed to impose an outright ban on new coal and gas.
Australian Conservation Foundation climate program manager Gavan McFadzean said the more logical approach would be to change the Environment Protection and Biodiversity Conservation Act to rule out projects that produced more than 100,000 tonnes of carbon each year, the threshold for the safeguard mechanism.
"We want to see [the safeguard mechanism] happen and go ahead on July 1, but the design Labor has put up is really inadequate – it is not as good as it needs to be," McFadzean said.
The foundation is seeking a change to phase out the use of offsets that allow big emitters to buy permits rather than cut their total emissions.
The Greens push for a ban on new coal and gas projects has also raised doubts over whether it is too late to stop new gas projects that are yet to be finished but have cleared some primary environmental checks and have investment commitments of billions of dollars.
Loading
Woodside has gained primary approvals for the new Scarborough gas field and the expansion of the Pluto gas field with a total investment of more than $17 billion, while Santos has cleared some but not all regulatory hurdles for its Narrabri gas field in northern NSW and Shell has committed to the Crux field at a cost of several billion dollars.
Asked if a ban on new projects would trigger lawsuits by companies against the federal government, Bandt said he was calling for a prospective change to the law, not a retrospective ban.
The Investor Group on Climate Change and the Carbon Market Institute support changes to the safeguard mechanism to enforce greater cuts to emissions, but Jackson said the danger of a repeat of the 2009 veto "keeps me up at night" because the politics in Canberra made progress so difficult.
"That's what's holding Australia back and that's what international markets see – they see confusion, they see delay, they see no progress and therefore they see no investment opportunity," he said.
Loading
"The real challenge for Australia is how we get new investment into new industries, new technologies and new jobs.
"And the only sensible – but modest – proposal that's on the table at the moment to actually deliver that is the current government's proposed safeguard mechanism."
Bandt repeated his call for the coal and gas ban on Thursday but did not say the Greens would vote down the package if they did not get their way.
Asked whether he had a draft amendment to get the changes he sought, Bandt said he was open to proposals from the government on how to amend the bill.
Cut through the noise of federal politics with news, views and expert analysis from Jacqueline Maley. Subscribers can sign up to our weekly Inside Politics newsletter here.