The US Ambassador to Sudan, John Godfrey, said the escalation of tensions to direct fighting was "extremely dangerous" and called urgently on the senior leadership to stop the clashes. Godfrey said he and embassy staff were sheltering in place.
The army said the RSF had tried to attack its troops in several positions after witnesses reported heavy gunfire in multiple parts of the country, raising fears of a full-blown conflict.
The RSF, which analysts say is 100,000 strong, said its forces were attacked first by the army.
Earlier, the RSF, headed by former militia leader General Mohamed Hamdan Dagalo, better known as Hemedti, said the army had surrounded one of its bases and opened fire with heavy weapons.
A prolonged confrontation between the RSF and the army could significantly worsen the security situation across a vast country already dealing with economic breakdown and flare-ups of tribal violence.
Civilian political parties that had signed an initial power-sharing deal with the army and the RSF called on them to cease hostilities. Separately, the Russian and US embassies also called for an end to the violence.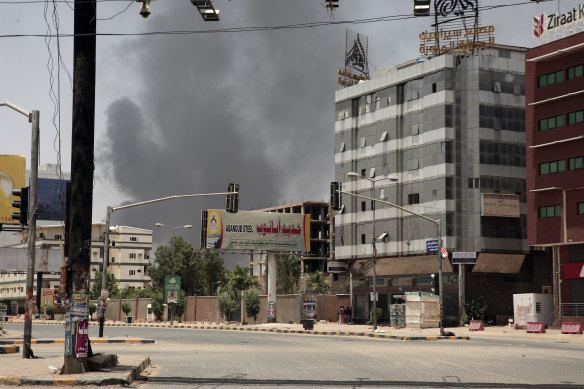 The hostilities followed days of tension between the army and the RSF, which could undermine long-running efforts to return Sudan to civilian rule after power struggles and military coups.
Hemedti, once one of the most feared militia leaders in Darfur, had put himself at the forefront of a planned transition towards democracy, unsettling fellow military rulers and triggering a mobilisation of troops in the capital Khartoum.
The rift between the forces came to the surface on Thursday, when the army said that recent movements, particularly in Merowe, by the RSF were illegal.
The RSF said in a statement actions by the leadership of the armed forces and "some officers" were an attack on its forces and intended to create instability.
On Saturday, there was a heavy exchange of gunfire in Merowe, eyewitnesses told Reuters.
The RSF on Saturday called the army's actions a "brute assault" which should be condemned. It said the RSF had informed local and international mediators of developments.
The RSF, which together with the army overthrew long-ruling autocrat Omar al-Bashir in 2019, began redeploying units in Khartoum and elsewhere amid talks last month on its integration into the military under a transition plan that would lead to new elections.