"The inaction of the Canadian government on this matter has been a long-standing and continuing concern."
A spokesperson for Foreign Minister Penny Wong said Australia was "deeply concerned" by the allegations made by Canada.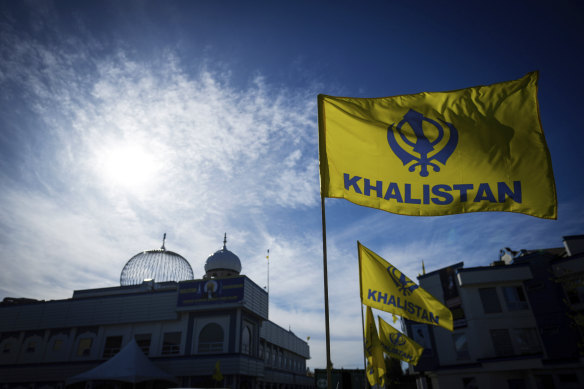 "We have conveyed our concerns at senior levels to India," the spokesperson said. "The Indian diaspora are valued and important contributors to our vibrant and resilient multicultural society, where all Australians can peacefully and safely express their views."
But one of the Khalistan movement's leaders, Gurpatwant Singh Pannun, said peaceful protests in Australia had been disrupted, quasi-referendums had been blocked and supporters intimidated by Indians in Australia.
"Australia is the next target for Indian agents," he said.
Asked about the claims by Pannun, the Indian High Commission in Canberra said it had nothing further to add to the statement issued by New Delhi.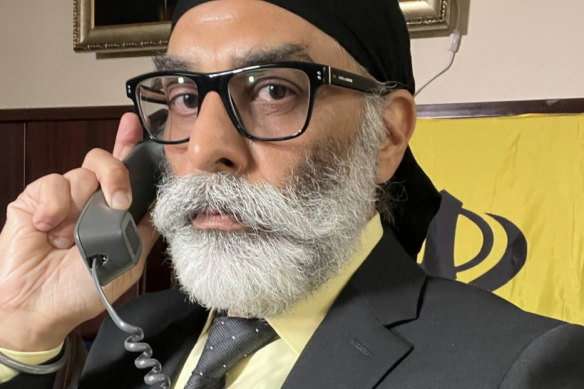 In May, Blacktown City Council cancelled a Khalistan event over security concerns. Indian government supporters had earlier claimed that a Hindu temple in Rosehill had been vandalised with anti-Indian messages.
They alleged they had been attacked by pro-Khalistan supporters who had put up posters with "wanted" signs for Indian diplomats. Khalistan freedom rally posters had also been plastered with "Kill India" signs.
Loading
Pannun, who has been declared a terrorist by India's Ministry of Home Affairs, said he had been labelled as a threat because he was openly challenging the territorial integrity and sovereignty of India.
"India is not a country. It is the union of states and people of Punjab, which are being forcefully occupied by India should have been given a right to vote," he said.
"This assassination of Nijjar is an act of terrorism."
Trudeau raised the allegations directly with Modi in a brief meeting at the G20 in Delhi last week. The Canadian leader's request for a more formal bilateral session was rejected by India. Trudeau's plane was later grounded with technical difficulties for more than two days, leaving him stuck in Delhi as tensions between Australia's Five Eyes and Quad partners threatened to boil over.
Trudeau told parliament on Monday that "any involvement of a foreign government in the killing of a Canadian citizen on Canadian soil is an unacceptable violation of our sovereignty".
Loading
Pannun, who was a colleague of Nijjar and runs the Sikhs For Justice campaign, told this masthead that he was not afraid of being assassinated.
"If Indian mercenaries reach me, then so be it. I'm not concerned about my safety," he said by phone from exile in the United States.
"I'm more concerned about the existential threat they're facing under the successive Indian governments."
Sikhs make up less than 2 per cent of the population in India or about 20 million people, but form the majority in Punjab.
Tensions between Sikhs and Hindus have been fuelled by historical differences over religion – particularly the Hindu caste system, a crackdown on Sikhs after the assassination of former prime minister Indira Gandhi by her Sikh bodyguards, and ongoing disputes over farming subsidies in the agriculture-dominated Punjab.
Up to 770,000 Sikhs live and work in Canada, making it the largest Sikh diaspora worldwide. There are only 210,000 Sikhs in Australia, but it is now the country's fastest-growing and fifth-largest religious group, according to the Australian Bureau of Statistics.
Pannun rejected the Indian government's claims that he was leading a group of violent extremists.
Loading
"Our actions speak louder than words. We were in Australia six months ago. We came and peacefully did our work," he said. "This is a peaceful democratic campaign."
The Australian government has been attempting to manage the outcry over the claims of Hindu temple vandalism while protecting the rights of Sikhs to protest.
Modi used his visit to Australia in May to push Prime Minister Anthony Albanese to take firmer action against vandalism.
"We will not accept any elements that harm the friendly and warm ties between India and Australia by their actions or thoughts," Modi said.
Get a note directly from our foreign correspondents on what's making headlines around the world. Sign up for the weekly What in the World newsletter here.