On Wednesday the Melbourne Rebels opened their doors to Lumumba, who is helping to prepare the Congolese men's and women's rugby sevens teams for Olympics qualifying events.
According to multiple sources at the Victoria Park event, Lumumba spoke briefly at the ceremony after being invited to say a few words. He said the absence of AFL CEO Gillon McLachlan from the traditional healing ceremony indicated a lack of commitment to the cause before imploring those leading the AFL in the future to step up and make the changes required to address systemic racism in the game. Lumumba confirmed this to The Age.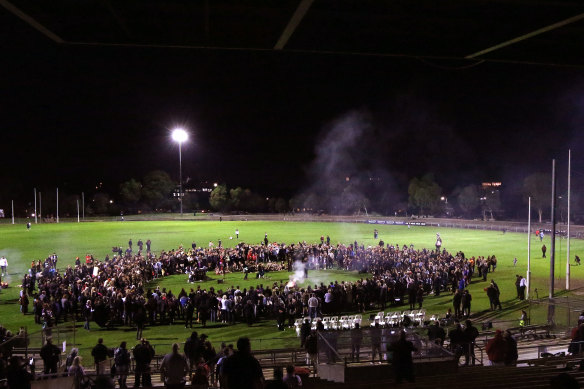 AFL football operations manager Andrew Dillon and approximately 10 AFL officials were also at the event that attracted about 1000 people to Victoria Park.
AFL spokesperson Brian Walsh, who was at the occasion, said the healing ceremony was conducted in great spirit with Winmar's brave stance also commemorated on Sunday afternoon in Adelaide in McLachlan's presence.
"It was a great night where the whole community came together to pay tribute to Nicky Winmar and Gilbert McAdam and the stand they took against racism and it was a reminder of not only how far we have come but also about far we still have to go in fighting racism and ensuring that we have an environment that is safe and welcoming for all," Walsh said.
"Following on from Adelaide on Sunday where he was universally applauded by a 40,000-strong crowd, Collingwood and St Kilda players and staff, the SA Premier and the AFL CEO, it is a reminder of how important his stance is to our game.
"Nicky rang today and he was still emotional and genuinely touched by the way the football world and supporters from right across the game had all come together with the Aboriginal and Torres Strait Islander community to make a stand against racism and a stand for unity.
"We are forever grateful for the courage he showed that day at Victoria Park 30 years ago and the courage he continues to show and the only way we can honour his actions is to continually improve and get better in the way we fight racism and drive Nicky's clear message that enough is enough."
Collingwood captain Darcy Moore also spoke on Tuesday night at Victoria Park as did Browne, Winmar, his former St Kilda teammate Gilbert McAdam and Magpies great Leon Davis at the informal prompting of Lovett-Murray as people stood around a fire set on the ground in the spot where Winmar had raised his jumper and said he was "black and proud of it".
Moore, who was close to best on ground in Collingwood's win over St Kilda in Adelaide on Sunday, said on Wednesday he had been moved by the event.
"It was an extraordinary ceremony. It was a really moving night at Victoria Park, such a famous venue for our club for so many great reasons and then last night remembering a really tragic part of our history," Moore said.
"It was really moving to see Nicky Winmar draw such an extraordinary crowd; I think that speaks volumes to his legacy.
Loading
"To see him and his people practising their culture at the very stadium where he experienced so much pain and trauma 30 years ago was really powerful. It's something I'll never forget for sure.
"[Lumumba] was one of many past players that turned out last night, that I think, once again, speaks volumes to the impact and legacy of Nicky Winmar, that so many players from all different walks of life wanted to be there and show solidarity with him. That was really pleasing and really extraordinary.
Loading
There was a great turnout and it felt really incredible to connect with so many different people on what was a really moving night."
Collingwood made a formal apology on Sunday to Winmar and McAdam for the racism they endured at Victoria Park in 1993 and also for the appalling comments of then president Allan McAlister in the following week.
Winmar, who played 230 games for St Kilda and 21 with the Western Bulldogs, was involved in the pre-game ceremony before the Adelaide match on Sunday with Collingwood and St Kilda players shaking the hand of the former Saints' star before the first bounce.
Collingwood have been committed to implementing the recommendations of the Do Better report which said systemic racism existed at the club under Browne.