Peruse the cleaning section of a supermarket or department store, and you'll find potions and gadgets to polish and scrub every cranny of your home. But housekeeping experts say you can clean many places with one simple product: dishwashing liquid.
"Honestly, I can't think of anything we can't use Dawn [dishwashing liquid] to clean, except maybe leather upholstery," says Kevin Reynolds, co-founder of the American House Cleaners Association. It and other dishwashing liquids get their dirt- and stain-fighting abilities from detergents and degreasers, says eco-cleaning expert Micaela Preston of Mindful Momma. "They're just powerful cleaning agents, and the liquids help concentrate their power," she says.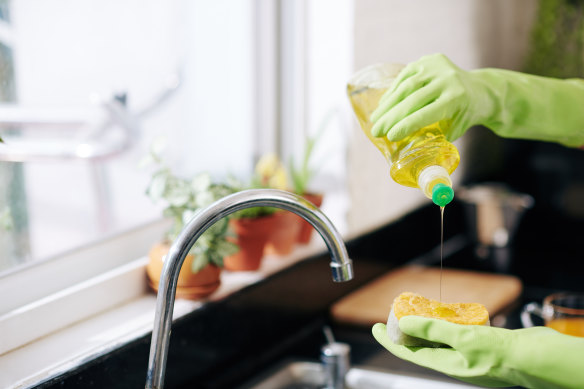 Dilute a few squirts with water for a spray cleaner that can sub in for Windex or all-purpose sprays. Or combine it with a couple of teaspoons of baking soda to create a homemade scrub for tougher jobs.
"People fall prey to marketing, thinking they need separate cleaning products for everything," says Kelley Jonkoff of Unfolde, a North Carolina organising company. "Making your own dish soap solution is simpler than having all those different things, and it cuts down on clutter, too."
Here's how to make dishwashing liquid your secret cleaning weapon.
Get your recipe right
First, no one is suggesting that you squeeze Palmolive onto a rag and rub down all your surfaces. "A tiny bit goes a long way," says Caroline Solomon, a professional organiser in New York City who makes cleaning-hack TikToks as @neat.caroline. "To create an all-purpose cleaner, take a spray bottle and add a teaspoon of dish soap, two cups of cold water, and 10 drops of essential oil if you want a subtle scent."
Use it on fabric stains
Dishwashing liquid gets dirt off pots and pans, so it makes sense that you can also deploy it to zap a red wine spill on the rug or a chocolate smudge on your white sofa. "I mix about three tablespoons of dish soap with the same amount of baking soda to form a paste," says Jonkoff. "Just brush that onto the stain."