Opposition Leader Peter Dutton's pledge to hold a second reconciliation referendum has been called into question after his Indigenous affairs frontbencher Jacinta Nampijinpa Price failed to declare support for the proposal.
Dutton said in an interview on Sunday that if the Voice referendum failed, and he won the next election, he would call another referendum to recognise Indigenous Australians but exclude a constitutionally protected Indigenous Voice.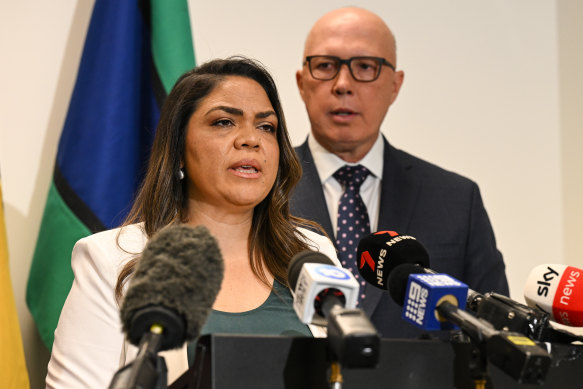 The push for constitutional recognition was supported by many Indigenous leaders until last decade when the Uluru dialogues process rejected it on the basis it may not lead to practical benefits. This same process spawned the idea of a Voice advisory body, which Dutton argues is risky and too powerful.
Senator Price, a leading No campaigner, was asked several times on Thursday night if she backed a second referendum but declined to give clear support.
"There needs to be, obviously, further discussion as to a second referendum within party rooms and determinations made that brings everyone together in agreeance with that," she said on Sky News.
"I'm all for process, and I'm very much consumed with the fact that we're dealing with this referendum at the moment. And that, for me, is my priority."
Loading
On Friday morning, Dutton was asked on ABC's Radio National about Price's comments and claimed it was "of course" the case that his frontbencher supported his position.
"I would sit down with the Labor Party and we would have, I believe, a sensible conversation… We would be able to, I believe, arrive at a form of words."