"Matty's played a fair bit of forward as well, and obviously with his sizes there's an advantage there as well," Voss said.
Loading
"And he's managed to get a fair bit of work under his belt over the last month, not just from a training perspective, but lucky enough to get a game last week. That certainly puts him in a good position to come in."
The Blues are unlikely to get funky on the whiteboard with left-field positional moves, such as swinging Mitch McGovern forward, preferring instead to stick to the formula that has worked in the second half of the season.
Goal sneak Jesse Motlop, the sub last week, is expected to come into the starting 22, while Ollie Hollands and Paddy Dow are in the frame to be the 23rd man.
"We're fortunate that we've got a lot of players that are in-form right now," Voss said.
"We've been able to have players come in and do really important roles for us, and they've been fit and healthy and, and as a result of that they've been able to execute really well.
"Certainly, our back six, seven, have been pretty settled for a few weeks now. We'd certainly favour that.
"Having the midfield group well and truly settled over the last few weeks has been important for us and will continue to be important for us, and we've obviously got a couple of things in the front half that we just need to have a bit of a think about and just what does that mix look like."
Brayshaw's concussion recovery "much better" this time, says Petracca
Marc McGowan
Angus Brayshaw's recovery from his latest concussion is "much better" than his previous one, Melbourne star Christian Petracca has revealed.
The encouraging development follows the AFL tribunal clearing Collingwood defender Brayden Maynard on Tuesday of any wrongdoing when his smother attempt in last Thursday's qualifying final left Brayshaw unconscious.
Brayshaw remains in the AFL's concussion protocols and must miss Friday night's semi-final against Carlton, but no decision has been made on whether he will play again this season if the Demons advance, or even whether he will ever play again.
The 27-year-old, who has played 167 matches since being the No.3 pick in the 2014 draft, has an extensive concussion history, including sustaining four brain injuries inside 12 months before taking an indefinite break in May 2017.
Petracca said a neurologist gave Brayshaw the "all clear" after the Melbourne midfielder's brother Hamish Brayshaw, an ex-Eagle, told reporters this week he would undergo brain scans.
Brayshaw ran laps at the Demons' training session on Tuesday, in another positive sign of his progress.
"He is going better. I saw him the day after [the incident happened], and he obviously got concussed 12 hours before that, so, of course, he was going to be feeling sore," Petracca told KIIS FM.
"I think [his concussion history] was more so worrying him, but he saw the neurologist and [he received the] all clear. Apparently, the concussion – the way he pulled up compared to the last one – was much better, which is good."
Demons coach Simon Goodwin said no discussions had taken place about Brayshaw's future.
Four players – Paul Seedsman, Marcus Adams, Paddy McCartin and Max Lynch – have already retired from the AFL this year due to concussion issues.
Brayshaw's considerations are likely to be influenced by the fact he is in a long-term relationship with Danielle Frawley, the daughter of the late Danny Frawley, former St Kilda captain and Richmond coach. The Victorian Coroners Court's investigation into Frawley's death found he was battling depression when he crashed into a tree east of Ballarat in September 2019.
Loading
"The Frawley family [history], who he [Brayshaw] is basically married to – I think that's what has been tough for myself and the team to try rally around him and his family," Petracca said.
"It's life. As I've said in the media before; you've got your brain for the rest of your life. Footy is a byproduct of who we are. We are human beings at the end of the day.
"I've been up close with Angus and seen what he is like, so I don't think anyone externally has seen what he has gone through. It's been quite tough. I don't think people understand the layers to the concussion."
"It's not just affecting Angus, it's the broader perspective of the family. It's the Frawley family, it's the Brayshaw family, it's the parents. It's an emotional time for everyone."
Rogers gets broadcast role in AFL shake-up
Peter Ryan
Kylie Rogers' responsibilities at the AFL have been expanded to include broadcasting as the league's CEO-elect Andrew Dillon announced his planned executive restructure.
The changes come following the departure of broadcasting executive Travis Auld to the Australian Grand Prix and with Gillon McLachlan's nine-year stint as AFL CEO about to conclude.
As the commercial and customer executive, Rogers will manage the AFL's strategic broadcast relationships with the league's media partners. Joining her on the executive is Matthew Chun who will be responsible for finance, clubs and infrastructure, and AFL general counsel Stephen Meade.
Tristan Salter has been given the reins to manage the introduction of Tasmania into the league, as well as Gather Round and other major projects, and will report into Chun. David Grossman will be in charge of clubs and scheduling.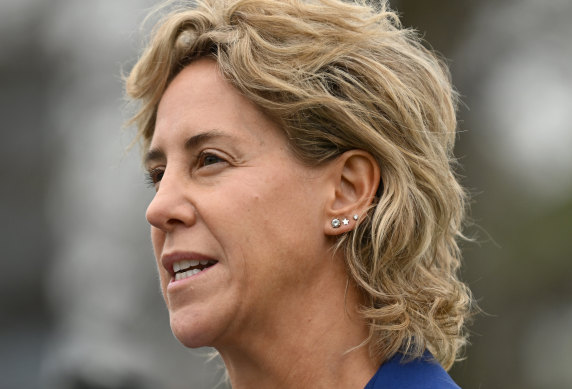 Rogers was approached for the vacant Hawthorn CEO role, but the timing was not right for her to pursue that position. Chun will continue to manage the upgrade of Marvel Stadium as well as other infrastructure projects such as Macquarie Point in Hobart and the Gabba redevelopment.
The changes follow the appointment of Laura Kane as the league's football operations manager.
Further adjustments are expected to be made once Dillon officially takes over at the start of October.
Keep up to date with the best AFL coverage in the country. Sign up for the Real Footy newsletter.