Describing Widodo's persistent cough, Tourism Minister Sandiaga Uno last month linked it to poor air quality and said the president "has never felt like this".
The decision to introduce mist technology on 300 buildings comes amid a hurried effort to clear the skies before the city hosts the ASEAN Summit in September.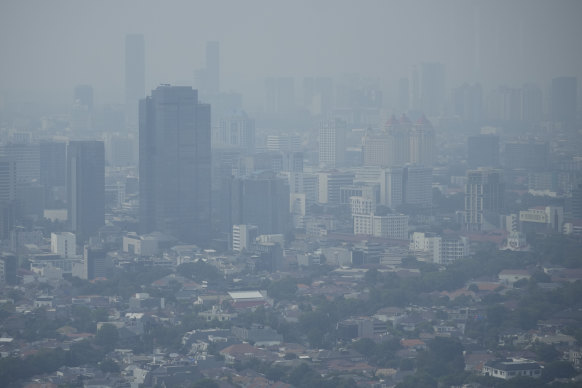 Head of the Jakarta Environment Agency Asep Kuswanto announced the policy after a mist system was installed at Central Jakarta's Pertamina Building. He said testing showed a reduction of harmful PM2.5 levels around the building.
PM2.5 particles have a diameter of 2.5 micrometres or less; about 3 per cent the width of a human hair. The fine particles – largely the product of smog from traffic, industry and fires – are small enough to penetrate the lungs and bloodstream and have been linked to an increased risk of cardiac arrest.
However, the jury is out on the efficacy of water mist for pollution mitigation. While mist can give immediate relief to a localised area like a construction site, it is not always considered a measure for sustained long-term improvement.
Jakarta resident and business consultant Alexander Evan said he did not leave the house without a mask, which he changed regularly because "the dirty air sticks to the mask".
"There are also street kids selling cookies near Sarinah shopping mall, in Central Jakarta. They don't wear masks, and I am sure they escaped the attention of the Jakarta government," the 48-year-old said.
"The real solution is decarbonisation … water mist is a temporary solution. It is not sustainable."
Retired civil servant Corina Manangka, 61, said she had been prescribed medication for a cough she recently developed. "I don't know if it is due to pollution or not, but the doctor told me to put on a mask when outdoors."
Street kiosks and fountains spraying fine mist were used across Europe during the northern hemisphere's recent heatwave to help cool residents and holidaymakers in places like Spain, Italy and Greece.
But using mist to target air pollution has more commonly been seen in China, which has used water cannons to reduce smog. Mist has also been used in Delhi, one of the world's most polluted megacities, where average annual particle pollution can be more than 25 times the World Heath Organisation's guidelines.
India was among six countries in Asia and Africa named in a report this week for suffering the worst air pollution. The Air Quality Life Index study by the University of Chicago's Energy Policy Institute concluded that fine particle air pollution was causing the average person on the planet to lose 2.3 years of life expectancy.
"The impact of PM2.5 on global life expectancy is comparable to that of smoking, more than three times that of alcohol use and unsafe water, more than five times that of transport injuries like car crashes, and more than seven times that of HIV/AIDS," the report found.
Loading
In a separate effort to minimise pollution, Indonesia recently used weather modification technology, also known as "cloud-seeding", to induce rain. The practice, conducted by the National Research and Innovation Agency in late August, involves injecting clouds with substances to speed up rain production.
The Environment and Forestry Ministry said the weather modification had improved air quality in areas where rain fell, including Bogor.
Cloud-seeding is widely used in the United Arab Emirates, which conducts an ambitious program throughout the year to force precipitation.