Sales growth has started to slow at electronics retailer JB Hi-Fi, but the company says its products are still resonating with customers.
The $4.9 billion retailer revealed on Wednesday that while sales are still well above pre-COVID levels at its stores in Australia and New Zealand and at whitegoods retailer The Good Guys, momentum was slowing compared with the same time last year.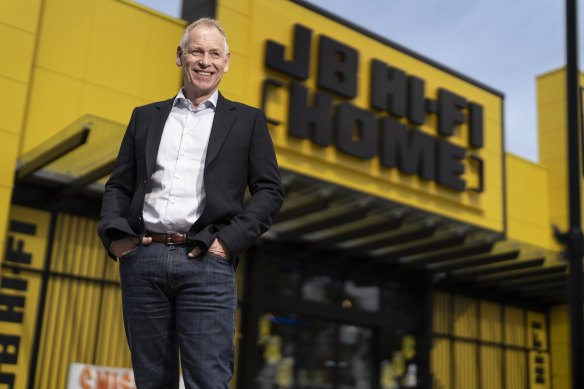 Same-store sales at JB Hi-Fi Australia fell by 0.1 per cent compared with the same time in 2022, while The Good Guys fell by 3.8 per cent.
Sales at the company's New Zealand stores were up by 10.8 per cent.
The company said that despite conditions moderating, customers were still engaging well with the brand.
Loading
"As anticipated, sales growth has started to moderate from the elevated levels seen in the first half of FY23, but the Group's trusted value-based offerings have continued to resonate with our customers and grown market share," it said in a statement to investors.
JB Hi-Fi's Australian sales are up by 38.8 per cent since before the pandemic, and New Zealand's are ahead by 30.1 per cent. The Good Guys is 22.4 per cent stronger compared with pre-COVID in 2019.
In a presentation to the Macquarie Australia conference on Wednesday, chief executive Terry Smart will point to the advantages that JB Hi-Fi's low-cost operating model and multichannel strategy provide in the current trading environment.