Gregarious, charming, twinkly of eye and usually wearing his trademark beret at a rakish angle, Olsen had an insatiable love of life, women, literature, food and wine. A prodigious work ethic saw him painting until his tenth decade, his energy and creativity undimmed by age. One of a handful of Australian artists to be a genuine household name, his work was represented in all state gallery collections, the national collection in Canberra and regional galleries across the country.
John Henry Olsen was born on January 21, 1928 in Newcastle, the first child of Henry 'Harry' Olsen, a clothes buyer, and Esma (nee McCubbin), a tailor. His sister Pamela was born in 1934, shortly before the family moved to Bondi.
He grew up in the shadow of the Depression, in a house without books, music or art, although he loved to draw on any paper that he could find, including his mother's cookery books.
When Harry, who suffered psychological damage fighting in World War I, returned home, he tried to banish his demons by drinking and gambling, later becoming destitute and dying in hospital in 1976. The unhappy atmosphere rubbed off on John in the form of a stutter, although he remained close to his mother, who died at the age of 90.
He left St Joseph's College in Hunters Hill at just 15 and after various small jobs, became a freelance cartoonist before signing up at Dattilo-Rubbo's Art School in Rowe Street. This then led him to the Julian Ashton School in 1946, where he "met all the people who had been waiting for me."
Studying under his "artistic father" John Passmore, he quickly became part of Sydney's smart set, who gathered in the Assembly Hotel to discuss art and philosophy and read poetry. (Poetry would become a lifelong love and he often started a day's work by reading a few verses first.) He also attended East Sydney Technical College (now the National Art School).
'It's so good for people to know Australia is not just about gum trees.'

John Olsen in 2013, when his painting Sydney Sun was selected for an exhibition of Australian art to be shown in London
In 1949, he married teacher Mary Flower and their daughter Jane was born in 1953. Mary would later become a lawyer with the Council for Civil Liberties and a secretary to the Australia Party, while Jane grew up to be a teacher, designer and artist.
Olsen launched his career as an artist in an austere, disapproving 1950s Sydney, a time when the city had only two art galleries (one of them inside David Jones). He railed against the status quo and when the conservative artist William Dargie won the Archibald Prize for the eighth time in 1952, Olsen led the exasperated protesters outside the Art Gallery of NSW. The Herald, appalled at their insolence, published a story about the demonstration with the headline: "They wore corduroy trousers. Most of the men had beards and long hair."
His debut solo exhibition was held at Macquarie Galleries in 1955 and in the same year, the family moved to Melbourne, where he taught, and socialised with artists such as Charles Blackman. His work entered a state gallery's collection for the first time (all followed over the next decade), when the National Gallery of Victoria purchased Sydney Waterfront in 1956.
When his marriage to Mary ended he moved back to Sydney alone and immersed himself in the arts scene, where friends included Russell Drysdale and Robert Klippel. He was part of the Direction 1 group exhibition, considered a landmark in Sydney's acceptance of new artistic ideas.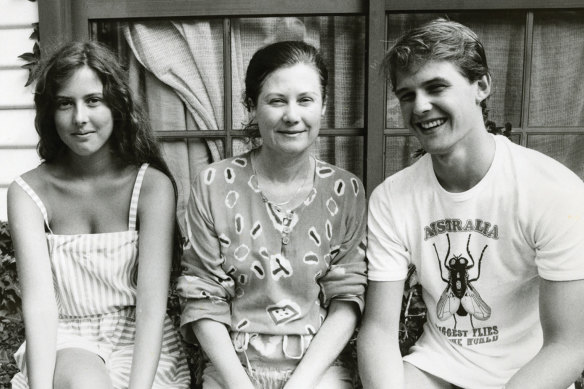 It was probably also influential in businessman Robert Shaw's decision to sponsor Olsen on a three-year trip to Europe. After spells in Cornwall and London, he headed to Paris where he found himself in an exciting world which was "quite wonderful for a little Aussie bleeder" although he was too shy to introduce himself to the sculptor Giacometti when he bumped into him in the cafes of Montparnasse.
He mainly lived on the island of Mallorca, in Deià , the same village as the poet and writer Robert Graves, who became a friend. It was cheap to live in Spain, still recovering from the civil war, and the Mediterranean culture of good food, wine and sunlight appealed to this romantic soul, and became an enduring influence on his life and work. During this time he taught himself to cook from Elizabeth David books and had two stints as an apprentice chef.
Returning to Sydney in 1960, Olsen was recognised as a leading young artist, his You Beaut Country series sending his career rocketing. Life as a leading young artist was not particularly lucrative though and he still kept teaching on the side at institutions including East Sydney Technical College.
It was there that he met the beautiful Valerie Strong, a talented artist herself. They married in 1961. Their son Timothy was born the following year, followed by daughter Louise in 1964. Tim became a successful art dealer and Paddington gallery owner, who represented his father. Louise later was an artist and designer and co-founded Dinosaur Designs, famed for its colourful homewares and bold resin jewellery.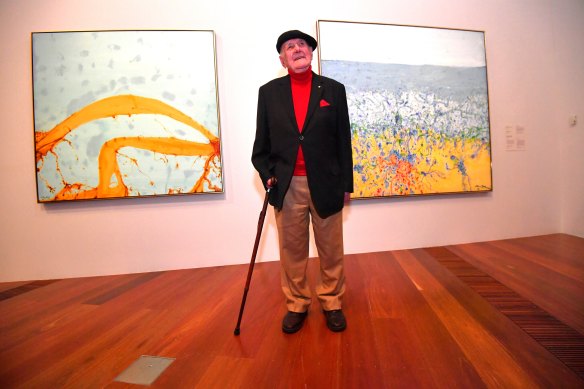 The family lived in a bright weatherboard cottage on Cliff Street in Watson's Bay which was alive with the sound of laughter, with friends such as Robert Hughes, Barry Humphries, Donald Friend and William Dobell dropping by to carouse and set the world to rights.
Ever restless and eager to immerse himself in his beloved landscape, Olsen also took his family to live in Dural, north-west of Sydney, and to artist Clifton Pugh's Victorian bush property, where he enjoyed working outdoors with peers including Fred Williams. Drawn back to Europe, the family lived in Portugal for two years, before returning to Sydney when Olsen opened the influential Bakery Art School in Paddington.
In 1980, he left Valerie to live with printmaker Noela Hjorth near Adelaide. They married in 1986 but within a year the relationship had ended. In 1988 he married farmer Katharine Howard, with whom he lived in a 13-hectare Southern Highlands property, until she died in 2016.
In 1977, Olsen received the Order of the British Empire for services to art and was awarded the Order of Australia and the Centenary Medal in 2001. In 2005, when he won the Archibald Prize for his painting Self Portrait Janus Faced, he said Janus "has the ability to look backwards and forwards and, when you get to my age, you have a hell of a lot to think about." There was a certain irony in winning the Archibald, the prize he had protested about in his youth, and dismissed as a "chook raffle" in 1990.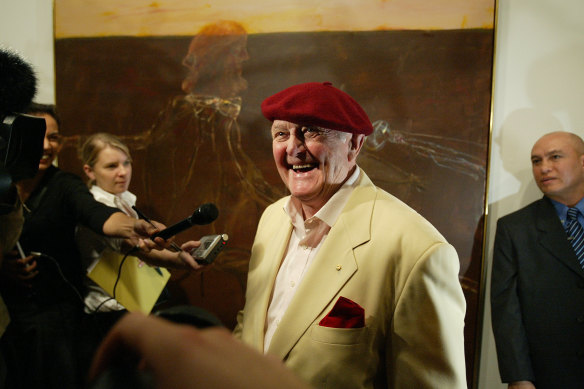 A trustee of the National Gallery of Australia and the Art Gallery of NSW, he had the unusual honour of having a new Melbourne hotel named after him in 2010. The Olsen features hundreds of his prints and several original paintings, including an 18-metre-square commission painted when he was 81.
Blessed with remarkable longevity, Olsen made sure he made the most of his time on earth.
"Seize the day and don't waste your life," he advised in 2011. "Take a lot of memories with you, when the curtain closes. I think it's tragic to see people imprison themselves in a job or situation they don't like, because this is the only life you'll have… in a free country like Australia, no matter what circumstances you're born in, ultimately life is what you make it."
John Olsen is survived by Tim, Louise and their families, as well as the family of Jane, who predeceased him in 2009.