In a major coup for the Australian tenor, the 37-year-old has been cast as Jean Valjean, the lead character in the London production of Les Miserables at Sondheim Theatre, joining a long line of phantoms who have exchanged the mask for the chain gang.
Loading
"It's a role that I've revered and feared and, of course, it's daunting," Piterman says.
As he recalled when preparing for opening night as Phantom, he "squealed like a soprano" back when he learnt he'd landed the biggest West End break of his career.
"It hasn't been like that with Valjean," he says.
"I've unsuccessfully auditioned for [Les Mis] at various times in my life, in 2012 and in 2014 for Enjolras, and it's eluded me.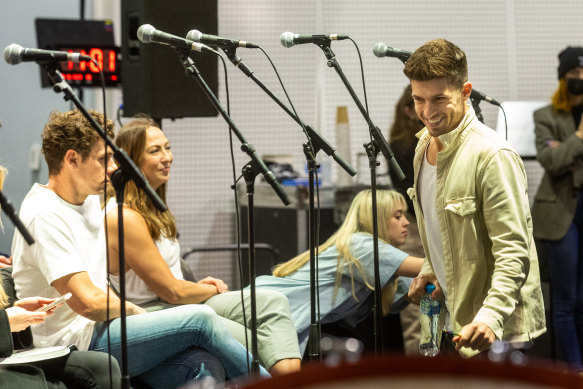 "And so I put it on a pedestal as something that maybe I won't achieve in my life that I won't have an opportunity to be a part of, so there's always been this distance between myself and it.
"And now I'm doing it so it's this exciting feeling but also shock."
Piterman will fly to London next week to start rehearsals. He has been "flying through" Victor Hugo's novel, on which the musical is based, to prepare for his portrayal of the unfairly damned convict "24601" who, after being shown an act of love and forgiveness by a bishop, devotes his life to God.
"It's great source material," Piterman says of Hugo's 1862 classic.
Loading
"I think my portrayal will evolve and change through the rehearsal process but for me, at the moment, the core of it is the relationship between justice and injustice and love and fear and God, and these are things that we all grapple with within our own lives.
"And that's why we connect to Valjean's journey, not just because he's an underdog, but because those themes run through the core of us within our lives, either personally or looking out on the world or how we see the world."
When he was preparing to go on-stage at Her Majesty's on Haymarket, London, Piterman would embrace the mask in a dressing room that was previously occupied by theatre's past greats, including Michael Crawford, the original Phantom, and Laurence Olivier.
"I'm a theatre geek at heart so it was like magic, stepping foot in that space," he says.
"I'd touch the walls, wanting some of that great Olivier brilliance and say 'c'mon Laurence, help me out here buddy'."
Singing in the echo of the greats is another of the potential pitfalls that come with taking on such a coveted and beloved role, particularly one where the bar was set so stunningly high by Irish tenor Colm Wilkinson who reprised his role as Valjean in the dream cast production of Les Mis to mark the musical's 10th anniversary.
That production staged at the Royal Albert Hall drew its star cast from the Australian, Broadway and West End versions and featured Play School's Phillip Quast as Javert.
Like any self-respecting musical aficionado, it was also the version that Piterman grew up watching.
"It was the musical that made me love musicals," he says.
Loading
But despite holding a deep reverence for the Valjeans, who have asked audiences Do You Hear the People Sing?, Piterman is adamant that his version of Valjean will be his own.
"I just don't want to impersonate in any way," he says.
"I'm just going to find my version of him and bring my heart to him as I've done with Phantom.
"Knowing the impermanence of everything more so now, which is one of the lessons of the COVID experience, I have a lot more appreciation of this and I will just enjoy the ride for it as long as it lasts and give myself over to it for as long as it's my reality."
Get a note directly from our foreign correspondents on what's making headlines around the world. Sign up for the weekly What in the World newsletter here.