The California Department of Financial Protection and Innovation announced early on Monday it had taken possession of First Republic and the Federal Deposit Insurance Corporation (FDIC) would act as its receiver.
The FDIC estimated in a statement that the cost to the Deposit Insurance Fund would be about $US13 billion. The final cost will be determined when the FDIC terminates the receivership.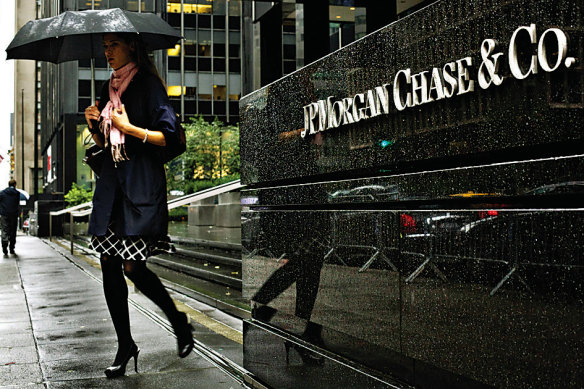 President Joe Biden hailed the deal.
"These actions are going to make sure that the banking system is safe and sound. And that includes protecting small businesses across the country who need to make payroll for workers and their small businesses," Biden said at the White House on Monday. "Let me be very clear, while all depositors are being protected, shareholders are losing their investments, and critically, taxpayers are not the ones that are on the hook."
The rescue comes less than two months after Silicon Valley Bank and Signature Bank failed amid a deposit flight from US lenders, forcing the Federal Reserve to step in with emergency measures to stabilise markets. Those failures came after crypto-focused Silvergate voluntarily liquidated.
JPMorgan said it expected to achieve a one-time, post-tax gain of approximately $US2.6 billion after the deal, which did not reflect an estimated $US2 billion dollars of post-tax restructuring costs likely over the next 18 months.
It said the bank would be "very well-capitalised" after with a common equity tier one (CET1) ratio consistent with its first quarter 2024 target of 13.5 per cent, and maintain healthy liquidity buffers.
The failed bank's 84 offices in eight states will reopen as branches of JPMorgan Chase Bank from Monday, according to the JPMorgan statement.
JPMorgan has been on an acquisition spree since 2021, acquiring more than 30 companies in deals worth more than $US5 billion combined.
In recent years, US regulators have been slow to approve large bank deals. The Biden administration has also cracked down on anticompetitive practices.
Eleven US banks had tried to keep First Republic afloat by pledging $US30 billion of fresh deposits on March 16, with JPMorgan, Bank of America Corp., Citigroup and Wells Fargo & Co. pitching in $US5 billion each. Goldman Sachs Group Inc., Morgan Stanley and other banks offered smaller amounts as part of a plan devised along with US regulators. On top of that, First Republic tapped the Federal Home Loan Bank and a Federal Reserve liquidity line.
It wasn't enough. The stock, which topped $US170 in March 2022, sank below $US5 by late April. First Republic's demise imperils not only common-share owners, but also about $US3.6 billion of preferred shares and $US800 million of unsecured notes. JPMorgan said it's not assuming ownership of either issue, and trading in the preferred was halted. The notes, which had already lost about three-fourths of their face value, were quoted Monday at just pennies on the dollar.
Loading
The bank has been bought and sold several times over the years, with Merrill Lynch & Co. paying $US1.8 billion to acquire First Republic in 2007. Ownership passed to Bank of America when it bought Merrill Lynch in 2009, and changed again in mid-2010, when investment firms including General Atlantic and Colony Capital purchased First Republic for $US1.86 billion and then took it public. Trading under the FRC ticker, the stock had rewarded holders with gains of more than 250 per cent by the end of this February.
"The final takeaway, in our opinion, is that FRC believed its business model of extraordinary customer service and product pricing would result in superior customer loyalty through all cycles," wrote Timothy Coffey, who follows the banking industry for Janney Montgomery Scott. "Instead, too many FRC customers showed their true loyalties were to their own fears."
Bloomberg
The Business Briefing newsletter delivers major stories, exclusive coverage and expert opinion. Sign up to get it every weekday morning.