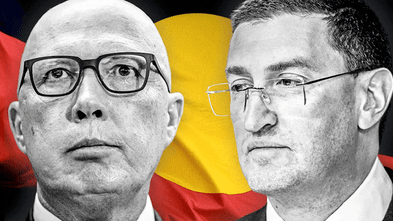 He added he had resigned "without rancour or bitterness and I remain a loyal Liberal, fully committed to the leadership of Peter Dutton".
Speaking in Brisbane, Dutton said Leeser was a man of great character whose position on the Voice was unique due to his long-term advocacy but added it was "at odds with the overwhelming majority of the Liberal Party party room".
Dutton repeated his criticisms of the referendum, deriding the proposal as a "Canberra Voice" that would not deliver change for Indigenous people on the ground, and affirming his determination to campaign for the No vote.
Prime Minister Anthony Albanese interrupted his leave to praise Leeser in an Instagram post, saying he had made a principled decision while claiming that Dutton had "underestimated the number of Liberal and National voters who will show generosity and goodwill and vote Yes to constitutional recognition in this referendum".
Leeser's decision comes days after former Coalition Indigenous affairs minister Ken Wyatt, the first Indigenous Australian elected to the House of Representatives, quit the Liberal Party altogether in protest against its rejection of the Voice to parliament.
Shadow ministers are bound by the party's decision to oppose the Voice but backbenchers will be allowed to freely campaign in line with their personal views, as is the norm in the Liberal Party.
Five shadow cabinet ministers said Leeser's decision was messy for the party and unwanted but would not pose a threat to Dutton's leadership.
One Liberal frontbencher, who spoke on the condition of anonymity, said the overwhelming majority of the party room backed the decision to oppose the Voice.
"It wasn't Dutton's unilateral decision. It was an orthodox shadow cabinet and outer ministry party room process of which there was very little dissent from … 90 to 95 per cent of colleagues are very happy with where we landed," the frontbencher said.
A Liberal backbencher said Leeser's decision highlighted the sloppiness of last week's process to reach a formal position on Voice, during which senior moderate Liberals were arguing for a more pro-Voice position on the morning of an anti-Voice position described by Dutton as a "resounding no".
"I believe that Voice can help move the dial on Indigenous education, health, housing, safety and economic development."

Julian Leeser
"Not many of us disagree with the party position. But it's been handled horribly and in normal times, if there was a proper challenger to Dutton, could lead to serious problems for the leader," the MP said.
Deputy Liberal leader Sussan Ley will on Wednesday launch a pre-budget blitz of 16 teal, Labor and Liberal seats, half of which were lost by the party at the last election.
Ley, who MPs this month told this masthead was Dutton's most likely replacement in the unlikely event of a leadership challenge, will be speaking to voters about nine key policy areas. The Voice was not listed as one of them in a briefing note prepared by her office.
Opposition home affairs spokeswoman Karen Andrews said she backed the party's decision to oppose the Voice and did not support the proposed wording for the constitutional change but indicated she would not be actively campaigning for the No case.
Loading
"There is no way that I can or would on a personal level support that wording. I am unlikely to go out with the words 'No' emblazoned on a shirt to be advocating in that way, but what I will be advocating for is that there is some neutral factual information available to all our communities that outline the pros and the cons of what has been proposed," Andrews told ABC's Afternoon Briefing program.
Leeser's support for an Indigenous Voice pre-dates his entry into federal parliament, having worked with Indigenous leaders Noel Pearson, Marcia Langton and Megan Davis on early design concepts, and founded the Uphold and Recognise organisation to build support for constitutional recognition in conservative circles.
Leeser said he would now focus on advocating for alternative wording for the Voice amendment, which he proposed in a speech to the National Press Club last week, as he claimed Albanese had handled the referendum process poorly and needed to change course.
Archer said Dutton was "speaking to a very narrow base" and needed to take some lessons from Leeser and Wyatt's resignations.
"It should be a long-overdue wake-up call in my view, but I'm not sure it's a lesson that will be heard," she said.
She said it was shameful for the party to have put Leeser in the position of having to uphold the cabinet line "knowing all that work he has done for such a long time on the issue".
Archer said the party had failed to heed the lessons of the 2022 election and this month's Aston byelection, and the party was positioning itself "adjacent to people who do have inflammatory, divisive and in some cases racist views".
Cut through the noise of federal politics with news, views and expert analysis from Jacqueline Maley. Subscribers can sign up to our weekly Inside Politics newsletter here.