La Cage aux Folles was first a French play, and then a French movie, way back in 1978. The story follows the travails of a drag show impresario, Georges, who is in a long-term relationship with his ensemble's intemperate and overdramatic star, Albin, stage name Zaza.
The day-to-day chaos ramps up into general hysteria when Georges' son from a long-ago heterosexual relationship brings home first a fiancée, and then her very conservative parents. Hijinks ensue as the couple try to present an appearance of normality, until, of course, their own normality reasserts itself.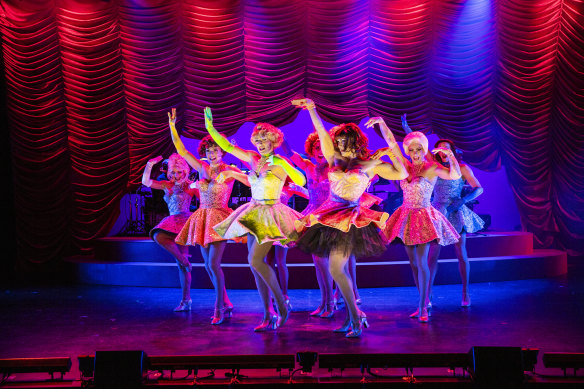 The film, unexpectedly, found a growing and then ecstatic audience around the world in 1979. (It is often said to have been the highest grossing foreign film in America to that time.) The implicit moral – why do Georges and Albin have to adjust to be someone else's "normal"? – resonated.
Then came a stage show, with big old-fashioned Broadway tunes by Jerry Herman, who'd written the songs for Hello, Dolly! and Mame. The book was by Harvey Fierstein. (Fierstein, now known for his outlandish drag roles delivered with his distinctive raspy voice, was at the time a newly minted Broadway star with the success of his play Torch Song Trilogy.)
Their musical, directed by the legendary Arthur Laurents, who wrote West Side Story and directed the original Gypsy, swept the Tony Awards that year. The show played in Sydney and Melbourne for nearly a year. (In the 1990s, celebrated film director Mike Nichols produced a US film version, The Birdcage, starring Robin Williams and Nathan Lane.)
The musical hit Broadway around the same time the AIDS crisis was spreading around the world. Laurents, Sparados notes, "wanted to make sure hetero couples coming to theatre would have an excellent time but also leave changed."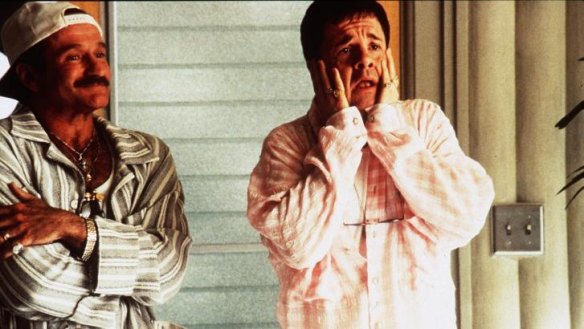 Actor Todd McKenney has performed in the show twice – once, in a smaller part in the show's original '80s edition and then taking on the flamboyant Albin role some years later. "It was the most thrilling experience I've ever had," he recalls.
The world in which the original La Cage was staged was not always a friendly one. "It was definitely a ground-breaking show, it really was," McKenney says. "When we did the original one, it did ok. But there was quite a bit of negative press about our show. I forget which paper but someone wrote, 'Be careful what glasses you drink out of when you go to the theatre.'"
Today, in urban areas, at least, gay culture is mainstream, but, as many transgender youth can tell you, intolerance, and hate, is ever-present beneath the surface. La Cage aux Folles, then as now, reminds us that there are real people being themselves at the other end of that hate.
Loading
"At its heart," says Spadaro, "it's about love and joy and living authentically as one's true self."
He says he draws inspiration from a passage in Laurents' memoir. "I think I can remember it exactly," Spadaro says: "'Do the work for the sheer pleasure of doing the work. And if you can be proud of the result, you've succeeded no matter what happens.' That's been my north star."
La Cage aux Folles is at the State Theatre April 19 to 23.