Earlier in the inquiry, Drumgold agreed under questioning by the probe's chair, Walter Sofronoff KC, that be believed "rape myths" – stereotypical and unfounded beliefs about the behaviour of survivors – were behind investigating officers' "passionate" opposition to pursuing Lehrmann.
Loading
Moller – who earlier told the inquiry that while he was eventually convinced by Drumgold of the need to charge Lehrmann, his officers weren't – told Sofronoff on Wednesday, "even though they had those views, they pushed forward against those beliefs".
The detective said it was offensive to hear allegations about rape myths being directed at police "because I've lived with that, and it's difficult".
"To have that experience and to be continually moving forward, working with the community trying to resolve those issues, as dedicated as I am and the other police are in ACT Policing, it's disappointing to hear that there's an inference that we're not working as hard as we can to solve those matters, to move forward with those matters to have them prosecuted.
"That's been my driving force, there's a lot of other ACT police who draw on other life experiences, but that's been mine."
In his third day in the witness box before the ACT government inquiry, Moller agreed under questioning that Higgins' media strategy in early 2021 was hindering the police investigation of her allegation.
"Ms Higgins had already done media interviews and it appeared to me from what I was told that Ms Higgins wanted the matter reported and wanted it to be a live investigation, and my opinion was that she wanted it live to give credibility to the story that was being aired," Moller said.
On December 2 last year, Drumgold announced a retrial against Lehrmann would be discontinued due to Higgins' mental health. On December 6, Moller liked a comment on LinkedIn from a person who said Lehrmann was innocent until proven otherwise.
Moller disagreed with Tedeschi's assertion it showed bias in favour of Lehrmann. "What I believe it shows is that I liked the comment, that I agreed with the comment," he said.
The comment – left beneath a link to a December 6 article in The Australian titled Push for DPP to resign over Lehrmann trial – read: "I was deeply shocked by some of the prosecutors [sic] reported words. This young man deserves the justice of our court and reporting system. He should not be negatively labelled for the rest of his life".
Moller agreed he had liked the comment in his capacity as a senior ACT police officer. "I accept in hindsight I probably shouldn't have liked the comment," he told the inquiry.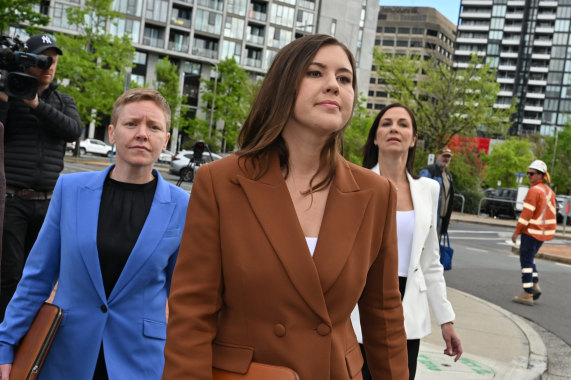 He also significantly walked back his earlier criticism of Victims of Crime Commissioner Heidi Yates' involvement in the investigation as a conduit between police and Higgins.
Loading
He had previously said her role added difficulty to the investigation, but under questioning from Yates' barrister, Peggy Dwyer, Moller agreed Yates had provided integral support during the investigation and had even facilitated investigators' second recorded interview with Higgins in late May 2021.
"We absolutely need those people who can advocate and remind us that it's not all about a criminal prosecution, it's about healing, about moving on, and as focused as I was on trying to move this to a criminal prosecution and trying to develop that evidence that we needed, it's not always the most important thing."
Cut through the noise of federal politics with news, views and expert analysis from Jacqueline Maley. Subscribers can sign up to our weekly Inside Politics newsletter here.