This post may contain affiliate links. Please read my disclosure policy.
This hearty lentil bolognese recipe is naturally gluten-free and vegan and simmered with the most delicious bold and savory flavors.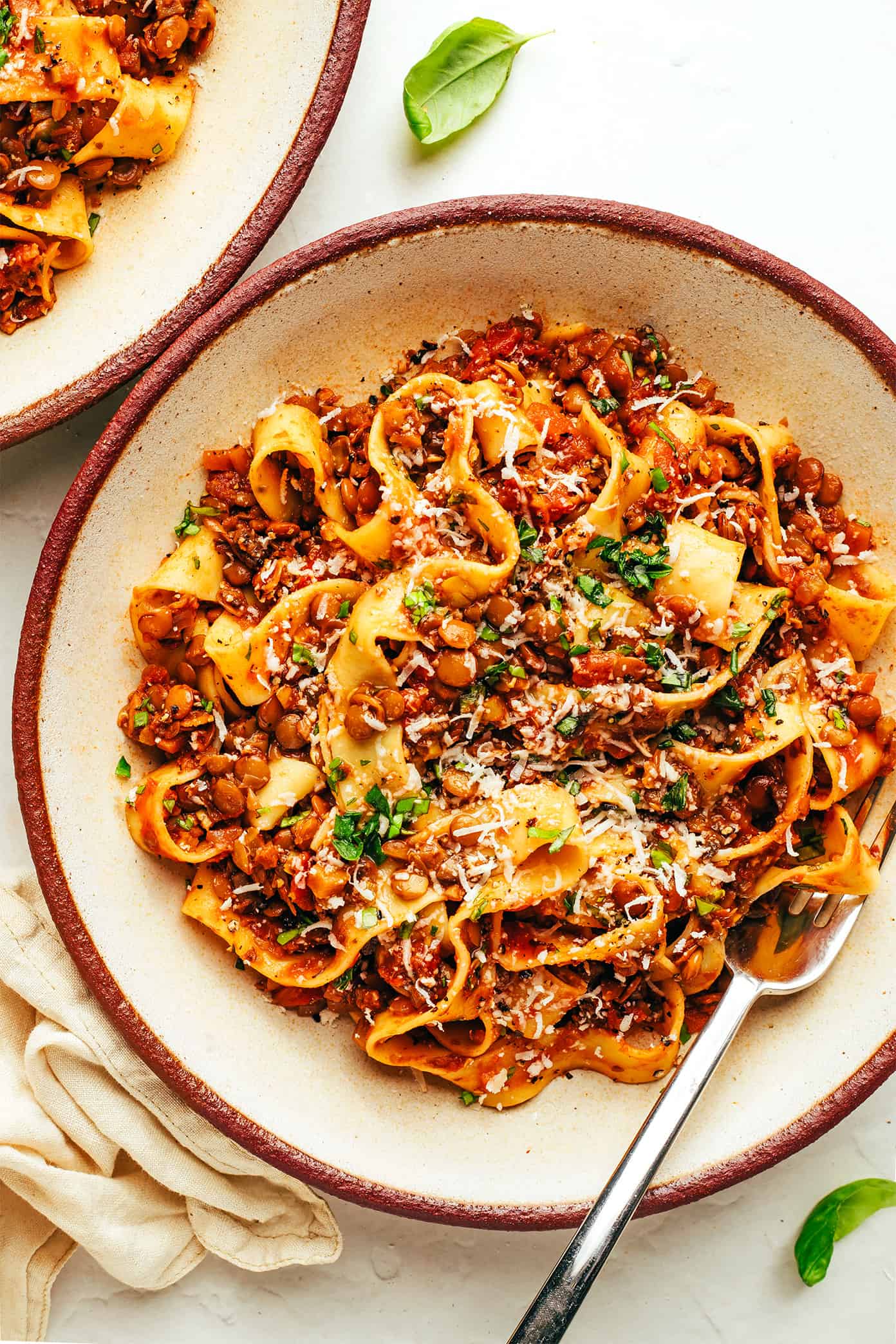 On those days when you're craving a cozy bowl of pasta alla bolognese but prefer to skip the meat, this lentil bolognese is here for you. ♡
We end up making some version of this plant-based bolognese most often in our house, especially so that my vegetarian husband and lentil-obsessed toddler can enjoy it. But I'm pretty sure that any meat-eaters in your own house will love it too!
The earthy lentils here add a wonderfully hearty texture and earthy flavor to the sauce, plus a generous extra dose of protein, which I love. And it's hard to see, but there are a ton of finely-chopped mushrooms hiding in there too, which help to add that classically "meaty" umami flavor to the sauce along with the traditional carrots, onion and celery. I admittedly like to go big on seasonings when it comes to bolognese, with lots of garlic, herbs, crushed red pepper flakes, and a hint of balsamic vinegar added in for lots of savory flavor. And while traditional bolognese is usually finished with dairy milk, you're welcome to sub in your favorite plain plant-based milk if you would like to make this recipe vegan.
Heads up that this recipe makes a big batch of sauce! So you can either use it to make a big pot of pasta, or save some of the leftovers sauce to freeze for later or serve again with gnocchi, polenta, potatoes, or whatever else sounds good.
Let's simmer up a big batch together!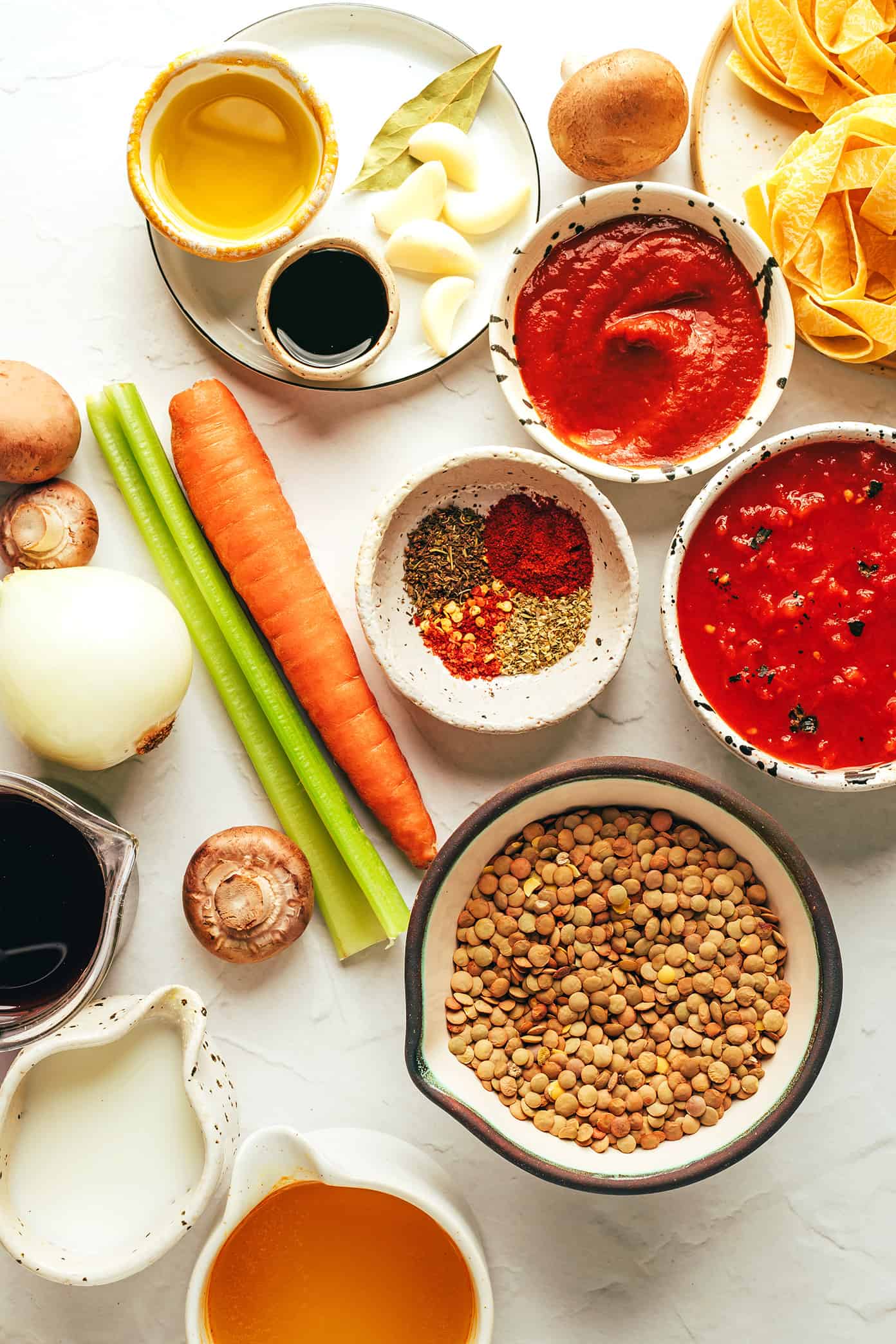 Lentil Bolognese Ingredients
Here are a few brief notes about the ingredients that you will need to make this Italian-inspired vegan bolognese recipe:
Mirepoix: Traditional Italian bolognese sauce is made a mix of onion, carrot, celery, which I prefer to finely dice so that the veggies blend well into the sauce.
Mushrooms: We will also add a half pound of baby bella mushrooms to give the sauce rich umami flavor and a meat-like texture. Feel free to use a food processor to chop the mushrooms if you would like to save time, or you can finely chop them by hand. (And if you are interested in an even more intense mushroom flavor, see the note below about adding in some extra dried porcini mushrooms.)
Garlic: I recommend a generous amount of minced or pressed fresh garlic in this sauce.
Dry red wine: Dry red wine is traditionally added to bolognese to deglaze the pan and add a delicious depth of flavor, complexity and a touch of acidity to the sauce. Dry white wine can also be used as a substitute, or you're welcome to just add in extra vegetable broth if you prefer not to cook with alcohol.
Vegetable broth: We'll use basic vegetable broth as the liquid base to help cook the lentils.
Lentils: I recommend using brown or green lentils for this recipe, which hold their shape and have a satisfyingly firm texture once cooked. But you're welcome to sub in whatever variety of lentils you love best — just note that cooking time will need to be adjusted accordingly.
Tomatoes: We'll use a combination of crushed tomatoes and tomato paste to give this sauce a rich tomato base. If possible, I recommend buying fire-roasted tomatoes for their extra depth of smoky flavor.
Seasonings: We will use a combination of bay leaf, crushed red pepper flakes, dried thyme, dried oregano, and smoked paprika to season the sauce. If you prefer a spicier sauce, feel free to double or triple the amount of crushed red pepper flakes.
Milk: I typically use whole dairy milk when making this recipe, but feel free to use a plain plant-based milk to make vegan bolognese.
Balsamic vinegar: A hint of balsamic vinegar balances out the acidity in the tomatoes with its caramelized sweetness and an extra layer of umami.
Toppings: I recommend a generous sprinkling of finely-chopped fresh basil and freshly-grated Parmesan to top your bolognese.
Pasta: I typically use pappardelle, bucatini or rigatoni when making pasta alla bolognese, but feel free to use whatever pasta shape you prefer.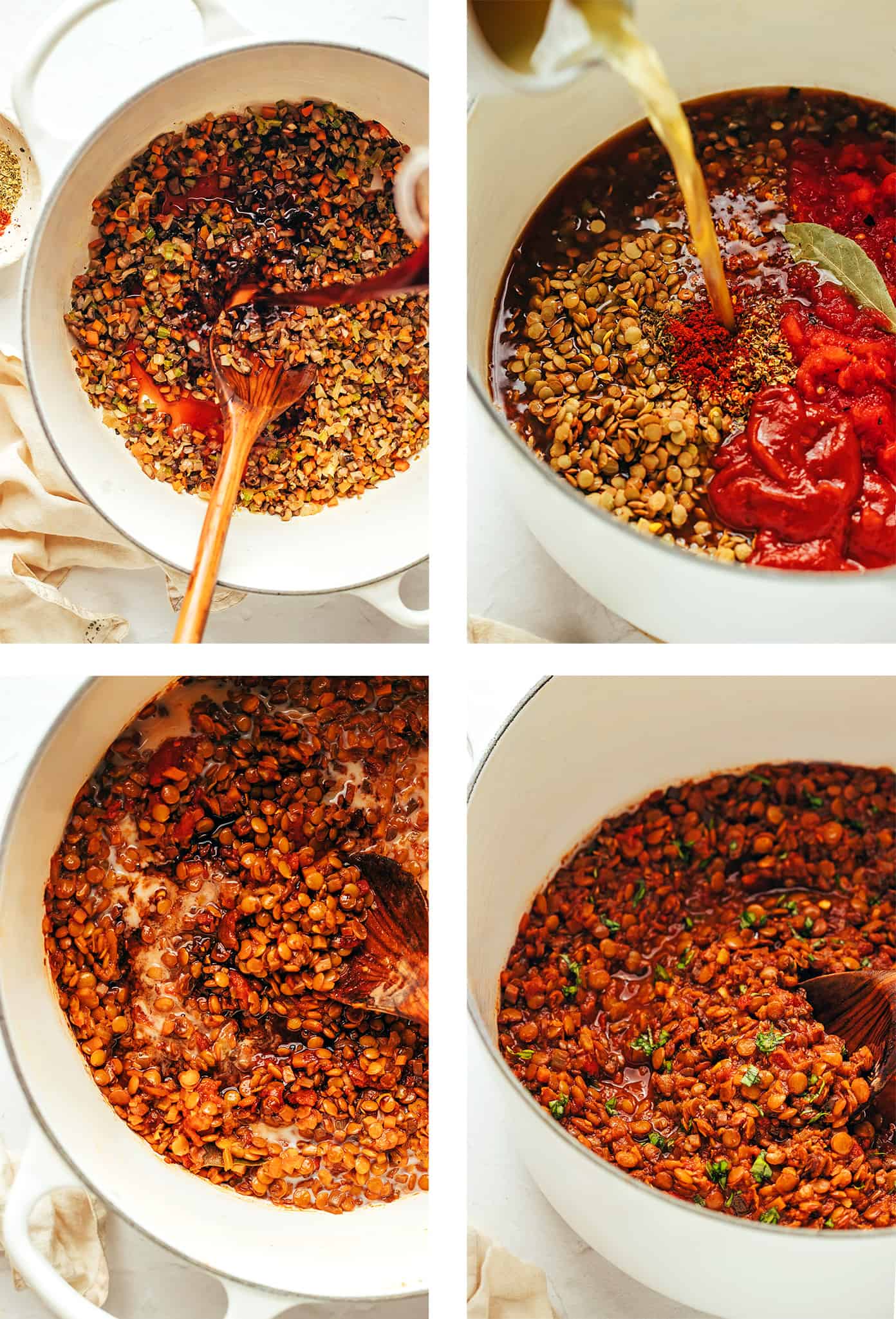 Lentil Bolognese Tips
Full instructions for how to make lentil bolognese are included in the recipe below, but here are a few additional tips to keep in mind:
Opt for a firm variety of lentils. I really recommend using a firmer variety of lentils (brown, green, French or black lentils) in this recipe, which will hold their shape better during cooking and give the sauce a hearty, meaty texture.
Keep an eye on the lentils. You definitely want to avoid undercooking the lentils, but also try to avoid overcooking them so that they do not break apart and turn to mush.
Don't forget to season. This sauce will likely need a generous pinch or two of fine sea salt and freshly-ground black pepper to bring out the best of all of these delicious flavors. So don't forget to give the sauce a taste test and season as needed.
Be generous with the toppings! Freshly-grated parmesan and fresh basil really help to brighten up this dish, so don't be shy when adding toppings!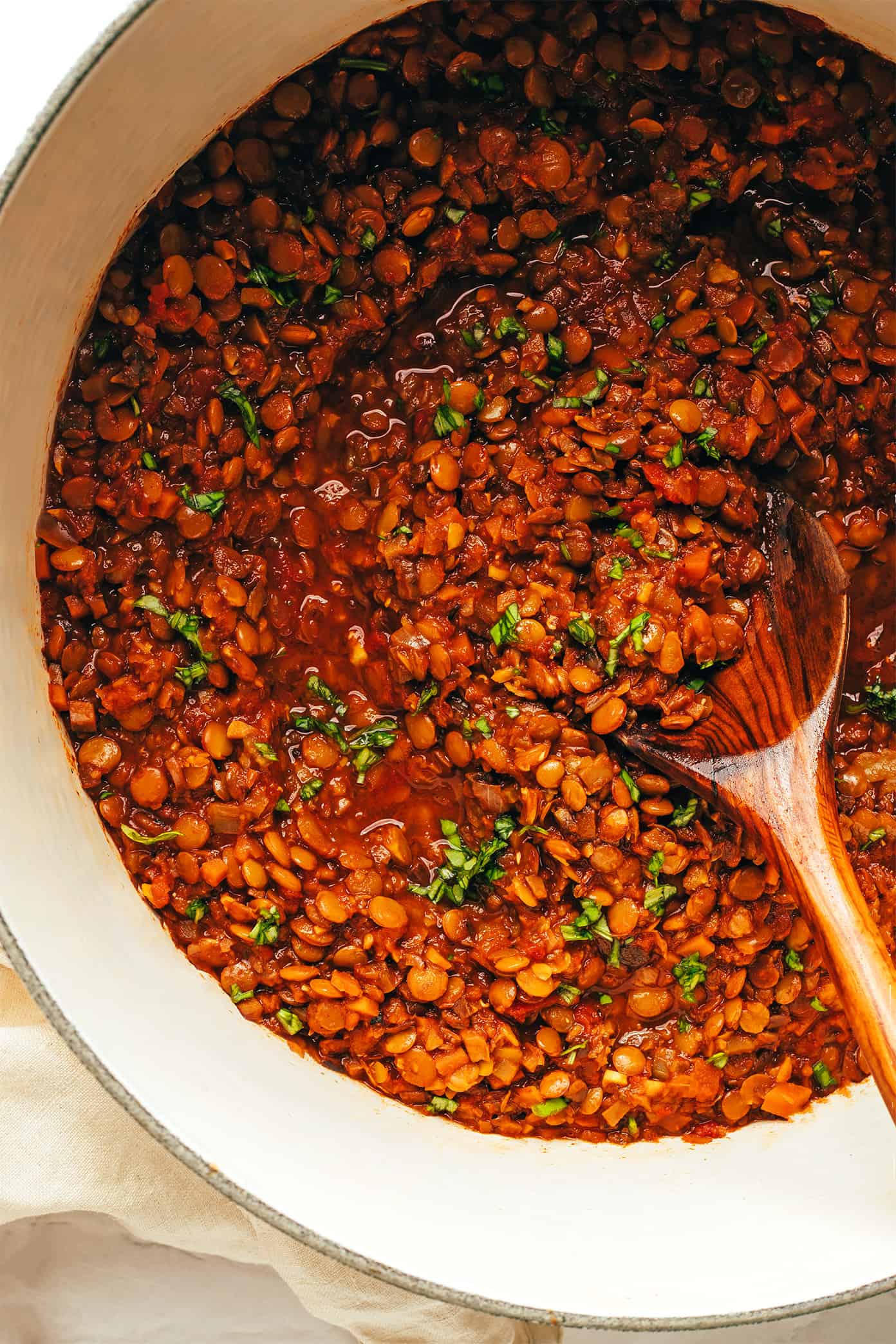 Recipe Variations
Here are a few additional variations that you are welcome to try with this vegetarian bolognese recipe:
Add walnuts: For a bit more texture, take 1/2 cup of walnut halves and chop them very, very finely, then add them to the sauce.
Add more herbs: This recipe would also be delicious with some chopped fresh rosemary, thyme or oregano added in, to taste.
Use dried mushrooms: For an even more intensely unami mushroom flavor, soak 0.5 ounces of dried porcini mushrooms in 1 cup of boiling water until softened, then chop and add them to the sauce. I would also recommend using the leftover mushroom water in place of 1 of the cups of vegetable stock.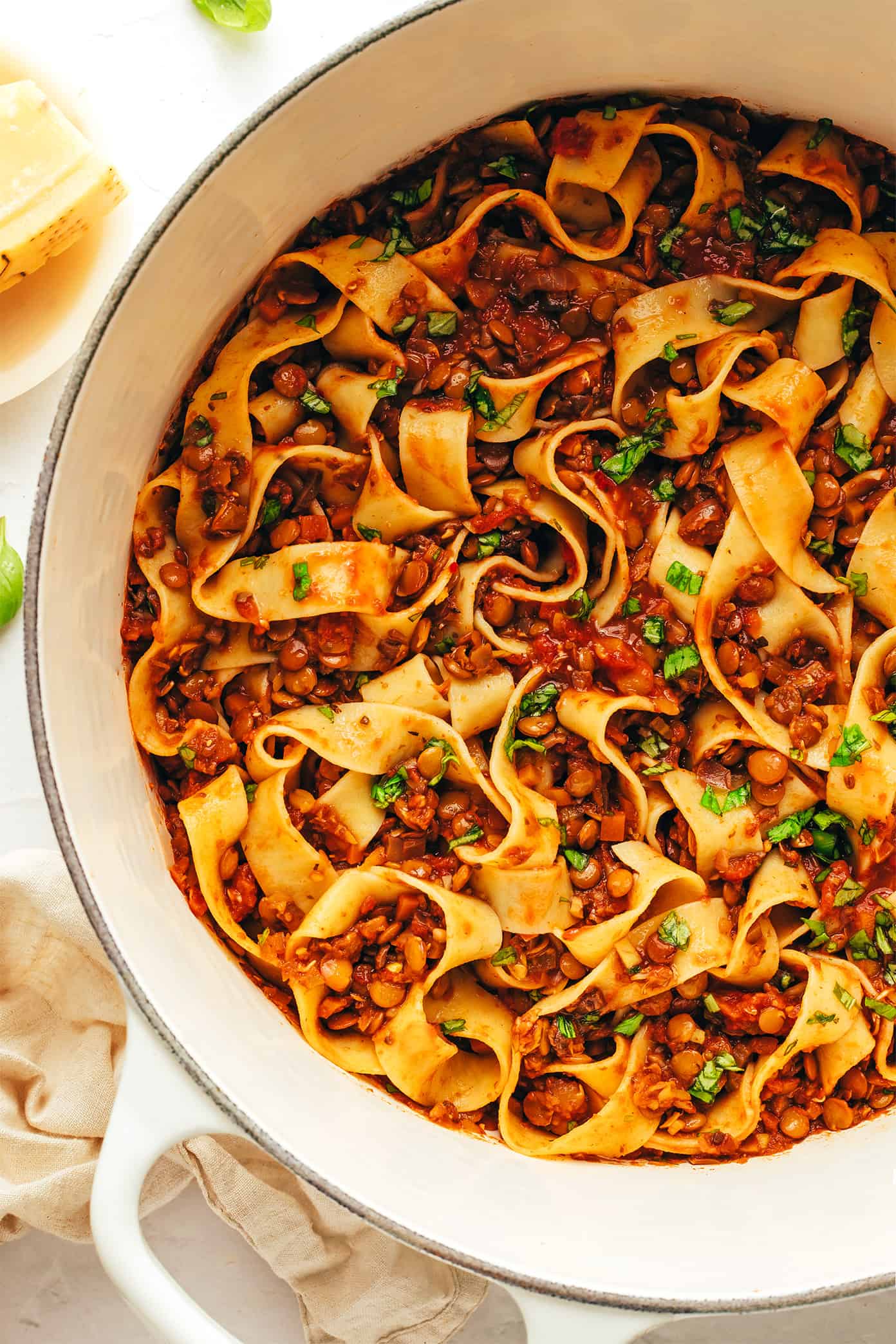 More Ways To Serve Bolognese
If you're looking for an alternative to pasta, here are a few additional ways to serve bolognese sauce that would be delicious!
Gnocchi: Serve the sauce over pillowy gnocchi (homemade or store-bought) to make gnocchi bolognese. You can also purchase gluten-free gnocchi if you prefer.
Rice, quinoa or polenta: Serve the sauce over brown rice, white rice or quinoa.
Mashed or baked potatoes: Serve the sauce over creamy mashed potatoes or baked potatoes.
Stuffed bell peppers: Use the sauce to fill stuffed bell peppers, along with rice or quinoa.
Eggplant Parmesan: Use the sauce in place of marinara in your favorite eggplant parmesan recipe.
More Vegetarian Pasta Recipes
Looking for more vegetarian pasta recipes to try? Here are a few of our favorites!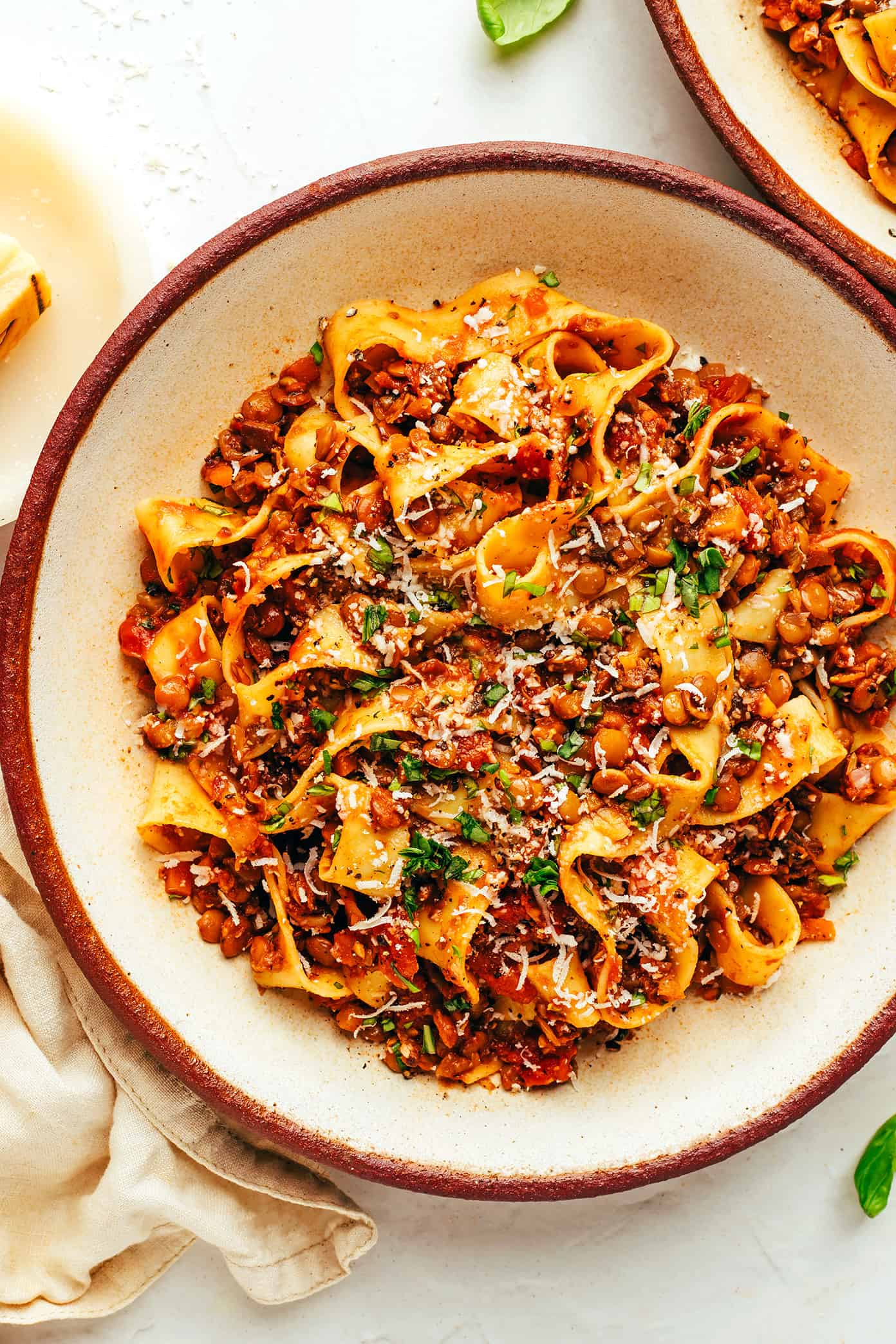 ---
Description
This hearty lentil bolognese recipe is naturally gluten-free and vegan and simmered with the most delicious bold and savory flavors.
---
1 tablespoon

olive oil

1

small white onion, very finely diced

1

medium carrot, very finely diced

1

celery stalk, very finely diced

8 ounces

baby bella mushrooms, very finely diced

6

large cloves garlic, minced

1/2 cup

dry red wine

2 cups

vegetable broth

3/4 cup

brown or green lentils, rinsed and drained

1

(28-ounce) can fire-roasted crushed tomatoes

1

(6-ounce) can tomato paste

1

bay leaf

1/2 teaspoon

each

: crushed red pepper flakes, dried thyme, dried oregano, smoked paprika

1/3 cup

milk

(dairy or plant-based)

2 tablespoons

balsamic vinegar

toppings: chopped fresh basil and freshly-grated Parmesan

1

pound uncooked pasta (I used pappardelle)
---
Sauté the veggies.

Heat the olive oil in a large stockpot over medium-high heat. Add the onion, carrot, celery and sauté for 6 minutes, stirring occasionally. Add the mushrooms and garlic and sauté for 5 minutes, stirring occasionally.

Deglaze.

Add the red wine and stir to combine, using a wooden spoon to scrape up any browned bits that may have stuck to the bottom of the pot. 

Simmer.

Add the vegetable broth, lentils, crushed tomatoes, tomato paste, bay leaf, crushed red pepper flakes, thyme, oregano, smoked paprika, and stir to combine. Continue cooking until the sauce nearly reaches a very low simmer. Reduce heat to low (or whatever temperature is needed to maintain a very low simmer) and cover. Simmer for 25-30 minutes or until the lentils are tender, stirring the sauce once every 10 minutes.

Cook the pasta. Cook the pasta in a large pot of generously-salted boiling water until it is *just* al dente. (Avoid overcooking the pasta.) Reserve 1 cup of the starchy pasta water, then drain the pasta.
Season.

Remove and discard the bay leaf. Stir in the milk and balsamic vinegar until combined. Taste and season the sauce with however much salt and pepper is needed. If the sauce is too acidic, you're welcome to also add in a few teaspoons of sugar. If the sauce seems too thin, add in some of the reserved starchy pasta water or extra milk as needed.

Serve.

Serve warm with the al dente pasta, garnished with lots of basil and Parmesan, and enjoy!
---