Dr Leo Davies, the senior staff neurologist at Royal Prince Alfred Hospital in Sydney who treated Burney, this week told her she made a "full recovery with no residual deficit".
Burney, who has carriage of the government's most important reform – the referendum on the proposed Voice to parliament – faces increasing speculation on social media and questions from journalists about apparent difficulties in her speech.
This speculation, some of it nasty and racist, has intensified in the lead-up to the referendum, which Prime Minister Anthony Albanese is expected to reveal on Wednesday will take place on October 14.
As well as social media innuendo about her fitness for her job, Burney has received intense scrutiny from opposition MPs who see the minister as a weak link in the government's strategy to sell the Voice to the public. Liberal frontbenchers have targeted Burney in question time, with deputy leader Sussan Ley calling her parliamentary performances the "most incompetent" she has seen and asserting Burney is not "up to the task".
Journalists have also asked questions about Burney's health, which led to the minister volunteering to tell her story to end the speculation.
Loading
Sometimes called a mini-stroke, a TIA is a clinical diagnosis given when stroke-like symptoms last for 24 hours or less, and fully resolve after that. According to the Stroke Foundation, a TIA "has no lasting impact on how well you can walk, move, swallow, think, talk or see".
Burney said she was cleaning her kitchen after hosting a dinner party in December 2020 when she dropped a pile of plates, smashing them.
"When I woke up the next morning, I didn't feel right and my right hand was … I could use it, I could use it very well, but it didn't feel all that normal," she said.
While Burney twice told the Herald and The Age this event occurred in December 2020, the letter supplied from her neurologist Dr Davies this week said the date of the event was May 2020. Burney later clarified her admission to RPA was on May 9, 2020.
Burney, who was then opposition spokeswoman for Indigenous Australians, families and social services, presented at the RPA in Sydney's inner-west and was diagnosed with a TIA, she said.
Burney said that after her diagnosis, she "had to get the fine motor skills … back into my hand, and that was over a period of a few months, not even that really, probably about two months". She said she went for treatment three times.
"At the end of the day, none of this has stopped me from exercising my job very effectively and well."
During medical investigations while being treated for the TIA, doctors discovered Burney also had a hole in her heart. "And that allowed, as I understand it, blood to go through my heart and end up in my brain," she said. The hole in her heart was closed through a day procedure about four weeks later, with no complications, according to Davies.
Burney said her health was a private matter, "but clearly people are chatting about it, so I wanted to be very clear with the public about what has happened, where I am at".
However, following the interview with Burney, the Herald and The Age contacted several cardiologists to research the medical background. All the experts said voice alterations were not a side effect of heart surgery.
Dr David Roy from St Vincent's Hospital in Sydney said that in the absence of a complication, a procedure to fix a hole in the heart should not affect a person's speech. Roy also said that a TIA is "a clinical diagnosis just based on the 24-hour duration of symptoms".
Other cardiologists said they had not heard of a patient taking in too much oxygen as a result of the heart procedure.
Dr Ravinay Bhindi, the head of cardiology at Royal North Shore Hospital in Sydney, said it "would be an uncommon outcome for someone to have changes to their voice after this procedure".
In a third conversation over the course of a week, the minister made clarifications after speaking with her cardiologist and neurologist.
Burney said she'd long been led to believe the heart surgery was the reason for her altered speech, but said her neurologist and cardiologist had last week told her the speech issues "could very well be the result of the medication I have been put on after the heart surgery".
On further inquiry, the minister supplied a letter from her neurologist, Dr Davies, who stated the "transient weakness and numbness" was experienced in Burney's left arm, not her right as she told the Herald and The Age.
"This had the clinical characteristics of a transient ischaemic event," Davies said in the letter to Burney. "Cerebral imaging was normal with no loss of brain tissue.
"At no time did you have any evidence of any cognitive impairment and your brain imaging with CT and MRI scans was normal. Nothing related to this incident has any bearing on your ability to perform your duties as a minister of the crown."
Several racist memes and slurs targeting Burney have appeared on social media.
"I have stopped looking at my social media to be quite frank," she said. "There is deeply racist material sent to not just me, but anyone who expresses a view … really unhinged, ugly stuff that quite frankly is appalling."
She said she takes excellent care of her health and meditates daily.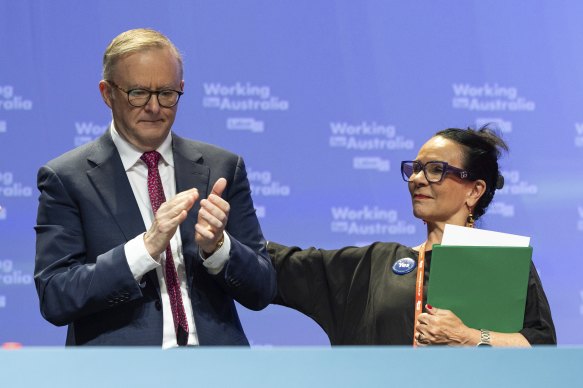 Burney, who was born in 1957, said she had been to too many funerals of Aboriginal people who had died prematurely, and that while the Voice will not impinge on the lives of most Australians, "it'll mean an enormous amount to First Australians".
"I am so focused on the future and what this means for our country, the importance of it and the significance, and the belief I have in the task I am part of," she said.
In a statement, Prime Minister Anthony Albanese said: "Everyone who knows Linda Burney respects her for her incredible strength and tenacity.
"Linda has faced far more than her share of adversity and tragedy in life, but she's never lost her faith in people or her determination to make Australia a better place."
Cut through the noise of federal politics with news, views and expert analysis. Subscribers can sign up to our weekly Inside Politics newsletter here.