LIV golf boss Greg Norman says he has other states in Australia lining up to host future events as sold-out crowds in Adelaide await the arrival of stars including Masters runners-up Brooks Koepka and Phil Mickelson.
Three of Norman's LIV rebels finished in the top four, including former champion Patrick Reed, of the 18 players who teed it up at Augusta ahead of their trip to Australia which will be a first-ever visit for Koepka.
Watch every round of the PGA Tour LIVE & Exclusive on Fox Sports, available on Kayo. New to Kayo? Start your free trial now >
While events for the next two years are locked in, Norman said there was "no doubt" Australia could host more than one event in the future given the appetite from not only fans but state governments and corporate sponsors.
The Victorian government was one which baulked at partnering with LIV given a long-standing relationship with the PGA Tour. The 2028 Presidents Cup will be held in Melbourne.
But Norman said the LIV event in Adelaide would leave a longer-lasting footprint than the Presidents Cup and could provide a financial benefit in the hundreds of million of dollars and there was no shortage of other would-be hosts.
"My mission was always to bring an event to Australia, to bring 48 of the best players, and this quality field has never been done before, down to Australia regularly where you could build true value," Norman told NCA NewsWire at the LIV event in Orlando.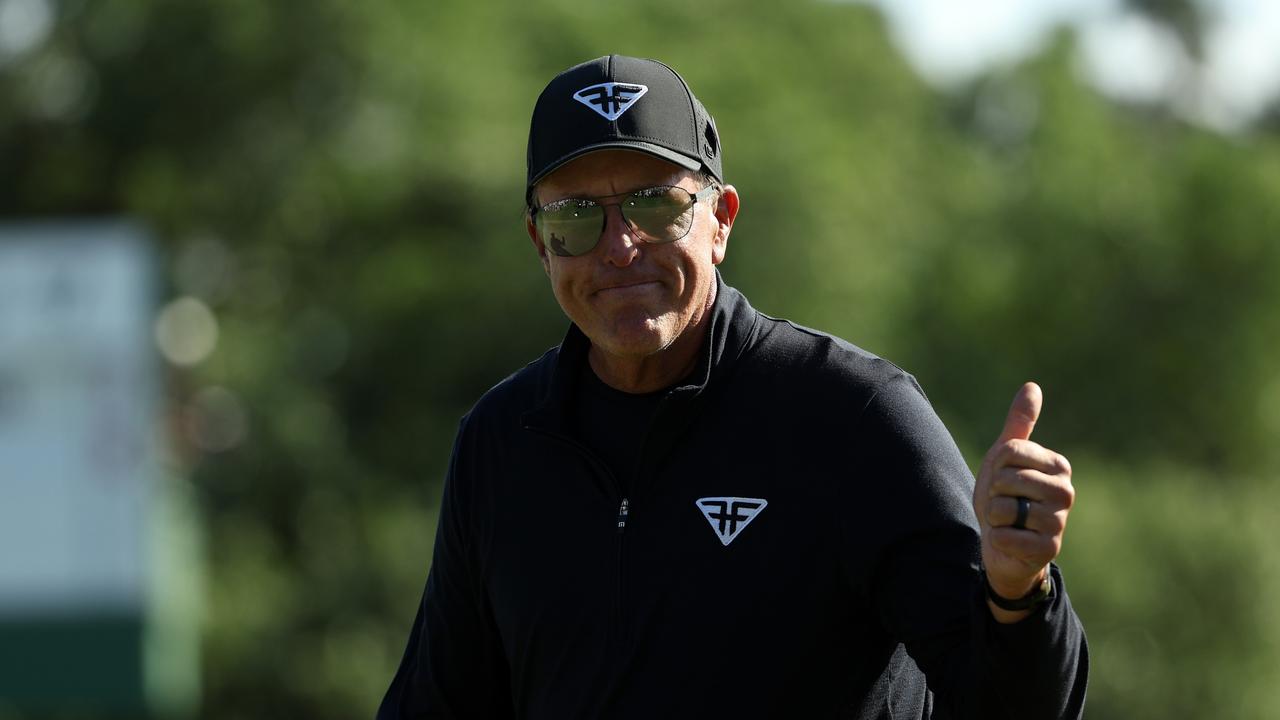 "The PGA Tour come in and rape and pillage for one tournament what is it, every 12 years, and they suck it dry and leave.
"We are a leader in so many different ways and we are leading so far ahead of the President's Cup in delivering to Australia.
"Now, even the players are saying "why don't we play two tournaments". I know I am getting inquiries from other states and I look forward to unlocking those opportunities when I go down to Australia, from corporate wise to state wise state tourism wise.
"The value we are bringing, by my estimate, no-one else's, is near nine figures.
"We are pretty much locked in for 2023/24 so we'd be looking beyond that. But we're getting places now who want to sign five year deals.
"We don't want to do that because of the popularity and how we're starting to elevate. But that's cool to see."
LIV officials released extra tickets for the Adelaide event last week after the first allotment sold out.
Koepka, who gave up a two-shot final round lead at the Masters to finish behind winner Jon Rahm, said coming to Australia was a "bucket-list" item for him.
"Never been, it's always been a bucket-list thing for me," he said.
"I've travelled everywhere it's just one of the places I haven't been. I've been looking forward to it. It's a cool place to go."
Smith, who faded over the weekend at the Masters to finish tied for 34th amid bad-weather, said would be happy with "all 14" LIV events being played in Australia and an extra one was being discussed by players.
"There's definitely some stuff getting thrown around at the moment," he said.
"You know, maybe not maybe not just Australia, but you know, somewhere else down there, kind of make a swing out of it.
"Australia loves it. They're right behind it. It would be nice to kind of have maybe one more there or one more in New Zealand or something like that.
"Like, you know, three weeks out of that kind of area and come back to the US for a couple and go over to Europe.
"That's I guess that's the beauty about a new kind of product, you can kind of feel the waters but a little bit and see what works and what doesn't."
Norman said Smith, who remains the world No.6 despite his move to LIV, was "gonna be the face" of the Adelaide event, and was embracing his superstardom and expectations to perform.
"And God bless him. He should walk proud. He should walk 10 foot tall. Because he's part of the reason why it's in Australia," Norman said.
"He's delivered and he's going to deliver."