Senator and former foreign minister Marise Payne has announced her retirement from politics on September 30, after more than 26 years in federal parliament.
"It is an extraordinary honour to be elected to represent one's community in the Federal Parliament. To have had the privilege to have served as long as I have, and in the process to have become Australia's longest serving female Senator in history, is something of which I am very proud," she wrote in a statement posted to her Facebook page this morning.
A Liberal Senator for New South Wales since 1997, Payne was the Minister for Human Services in the Abbott government from 2013, elevated to cabinet under Malcolm Turnbull in 2015 as the first Australian woman to be appointed Minister for Defence and after the 2018 leadership spill, she became Scott Morrison's Foreign Minister following Julie Bishop's resignation from cabinet.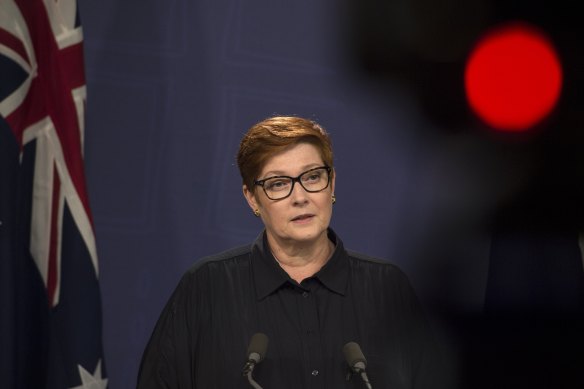 Since the defeat of the Coalition government in May last year, she has been Opposition Leader Peter Dutton's shadow cabinet secretary.
Prominent No campaigner and Indigenous leader Nyunggai Warren Mundine is shaping as the front runner to replace Payne, with powerbrokers hoping the former ALP president can unite the conservative wing of the Liberal Party.
Loading
With Liberal MPs anticipating Payne, a senator for NSW and the former foreign minister, will exit politics in the coming months, Mundine did not rule out the prospect of running for the vacancy when contacted by this masthead.
Opposition Leader Peter Dutton said Mundine "would have a very serious claim to make", but noted there were other well-qualified candidates and it would be up to the NSW division of the party to decide.
More to come