Australia's largest university, Monash, is seeking to avoid paying at least $10 million it allegedly owes its staff by using an unusual legal tactic to stop a wage theft claim being launched against it.
The move comes as the extent of wage theft in the university sector is expected to balloon into the hundreds of millions of dollars in the coming years in a rolling scandal at some of Australia's most prestigious institutions.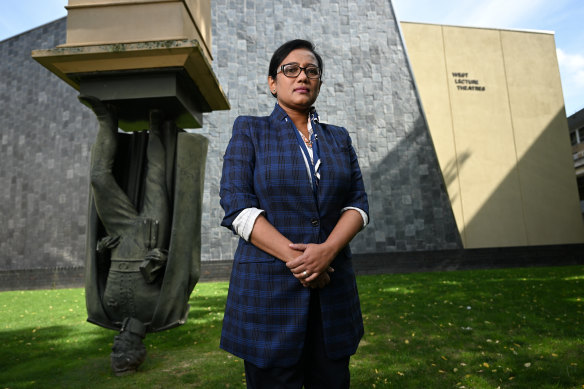 The Australian university sector has grown significantly over the past decade with a combined revenue of $38.9 billion and surplus of $5.3 billion – a near tripling since 2011.
Yet, the confirmed wage underpayments in the sector have now reached $100 million over the past three years and a key issue is the inadequate amount of time casual staff are given to mark essays, meet students and prepare courses. Monash University has already paid out $8.6 million for underpayment.
Monash is now seeking to stop another Federal Court claim that alleges casual and sessional teachers were not being properly paid for consulting students.
The university is trying to do so by applying to the Fair Work Commission to retrospectively alter a workplace agreement that had been operating since 2019. National Tertiary Education Union president Dr Alison Barnes accused Monash of the "height of employer bastardry".
"They negotiated that enterprise bargaining agreement in good faith and to try to alter it is extraordinary," she said.
Monash University said in a recent submission to the commission that some language in the agreement was ambiguous and suggested changes to the wording.
The Federal Court has, as a result, halted the union-backed case while the Monash claim is dealt with at the Fair Work Commission. Justice John Snaden said that Monash's proposal, if successful, could "extinguish" at least part of the union's wage theft claim.
The university has assembled a high-powered legal team of Clayton Utz and leading employment law barristers.
A spokesman for Monash said it applied to change the agreement "to provide certainty to both staff and the university" over the issue.
"The university believes that the [Fair Work Commission], being the expert industrial umpire, is the appropriate jurisdiction to hear the variation matter," the spokesman said.
Monash, through its spokesman, said it had taken "significant steps" to improve its payment systems and was "strongly committed to ensuring all staff are paid correctly".
Monash academic Tony Williams is part of the Federal Court case against the university and has held casual or short-term teaching roles since 2014.
To smooth out his earnings during semester breaks, he works in a supermarket. "With the two jobs during the semester, I work like a dog seven days a week," he said.
But there is lean time between semesters and the lack of permanency makes other life decisions, such as buying a house, difficult.
"I realised recently I'd been doing this [teaching] for 10 years and if I had an ongoing job, I'd be getting long service leave," he said.
"It gave me pause to reflect on how depressing it is to have to reapply for my job every six months. I'm 38 this year, and it feels like I've kind of done nothing with my life."
Australian universities are marked by heavy use of short-term work.
In Victoria, universities are required to produce detailed statistics on how they employ staff and on average, more than half were on casual or fixed-term contracts at the end of 2021 – far higher rates than the rest of the workforce.
Barnes said university workers had more in common with gig economy workers than we realised.
"It's not just wage theft, it's the levels of insecure work. Insecure work is the disease, wage theft is one of the symptoms of the problem," she said.
Casual academic Pan Karanikolas agrees. "You're like this underclass of workers even though you make up the vast majority of workers in the sector. You're not reasonably considered someone who contributes to the intellectual life of the university."
Barnes said the $100 million in wage theft already identified was the "tip of an iceberg". Nearly half of that is from the University of Melbourne, which faced some of the earliest scrutiny.
Loading
But Barnes said the issues were systemic and would likely end up in the hundreds of millions of dollars across Australia.
A spokesman for the University of Melbourne said it had undertaken an extensive program "to identify and remediate current and past staff" for underpayments.
"There is also an extensive program of work currently under way to reduce our reliance on casual employment, to rethink our workforce model and to improve our employment and management practices," the spokesman said.
"The result of this program of work will be a fundamental and sustainable reduction in casual and short-duration fixed-term employment."
Fair Work Ombudsman Sandra Parker put the university sector on notice last year for what she described as the systemic and long-term underpayment of casual staff.
She said targeting universities was a "strategic priority" along with sectors such as hospitality and farms, which are traditionally the worst offenders for breaches of labour laws.
Charmaine Katuwapitiyage started casual teaching in bioscience at La Trobe University last year and alleges she has been underpaid. "For me, I've always done the work properly. I keep the actual hours it takes, and they never pay me for that," she said.
She kept records of the time it took her to mark assessments across four subjects in the first semester of 2022. It took her more than twice as long as the hours contractually allocated to her, she said.
Being forced to mark at far greater speed than the assessments requires meant work could not be properly assessed. "It affects the quality of teaching and learning."
Katuwapitiyage has also worked as a laboratory scientist and in nursing and as a public health practitioner. She expects repercussions for speaking out but said she felt compelled to do so due to the working conditions and the impact on her mental health.
Loading
The Age spoke to three academics who said they had been underpaid by La Trobe. In a statement, the university said it had paid back staff $8.1 million in total in recent years but denied the underpayments were deliberate.
"Unintentional underpayments were the result of inefficient and outdated systems and processes, and devolved decision-making," the La Trobe spokeswoman said.
"We have now addressed these issues to avoid any future errors, including simplifying and automating our payment systems and reviewing our marking guidelines."
Hiero Badge, another casual academic who has just left the sector, said universities had traded on their positive reputations.
"Universities coast on this public perception that they are centres of learning and self betterment where professors wear tweed jackets with elbow patches," they said.
"What matters most for them is profit as university funding has decreased they've eked out of those profits out of a casualised workforce."
The Morning Edition newsletter is our guide to the day's most important and interesting stories, analysis and insights. Sign up here.