"Instead of looking at our finances at the end of the month and going, 'we need to cut back here and there', we can just go back to living comfortably and not feeling like we're stressed about money."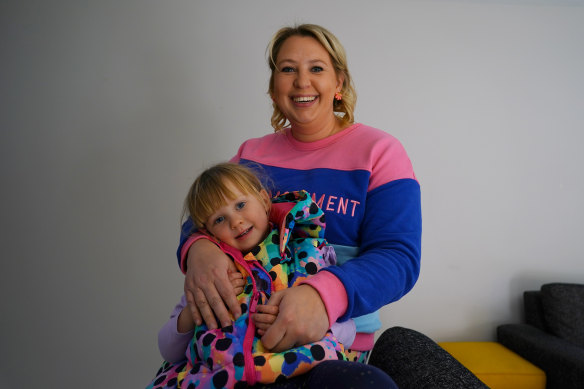 Rebecca Reeve, who lives in Newport with her husband and three-year-old daughter Grace, returned to work about half a year ago once they realised that, in the past two years, rent had increased by about $150 a week. She's now a casual employee at Mama Movement, helping in the warehouse and at the company's market stalls.
"It's definitely more common that both parents have to work," Reeve says. "I know some friends that have set up their own businesses, others do stuff with art. Everyone works that I know of."
But she concedes she's luckier than some, being the "rare breed" that doesn't need to pay for childcare.
Childcare costs in Australia have skyrocketed, with families paying an average of $122 per child per week. This isn't possible for all parents, and will likely continue to place strain on household budgets even after the government implements its policy to make it more affordable.
Loading
"The childcare in this country is extraordinarily expensive in world terms," Craig says, adding that so far it has largely been uneconomic for women to work more than three days a week due to both childcare costs and income taxes imposed on secondary income earners.
"They're kind of working for nothing," Craig says. "It's a cost-benefit analysis. And it's really difficult working three days or working full-time with a young baby, especially if you've got a partner who is also full-time, so considering the trade-off between time with the child and money is important."
Kim Gill is a mother of four. She's been a stay-at-home mum for 12 years, but decided to return to work as a fulfilment coordinator for Hey Doodle (a company that creates reusable silicone activity mats for kids) in 2021, as the bills began to grow and they prepared to transition from renting to owning a home.
"It's the extra things," Gill says. "Now that our food bill has increased because of our older children, and the price of a lot of other things have increased, it has meant that we've been able to not feel it as hard, I suppose. I've just been able to pick up the slack, pulling in those extra couple hundred dollars a week."
These women were lucky enough to find jobs with companies owned by fellow mothers – people that understand the difficulties associated with being away from your children and the need for flexible hours. But not every mother is as fortunate during their job-hunt.
"The logistics of having children and work – like childcare, drop-offs and pickups, deadlines – it's really quite a different thing than being able to be flexible," Craig says. "It's a lot of added work and stress … and it often isn't regarded favourably by employers."
Gill says mothers should be considered a vital element of the workforce. "Mums are incredible resources," she says. "If they're given the opportunity, the flexibility and the understanding, like when children are sick and things like that, then they can actually be your biggest asset."
Make the most of your health, relationships, fitness and nutrition with our Live Well newsletter. Get it in your inbox every Monday.