"The Butcher" lived up to his nickname, stunning Bommber with a right uppercut before finishing proceedings with a flurry of blows.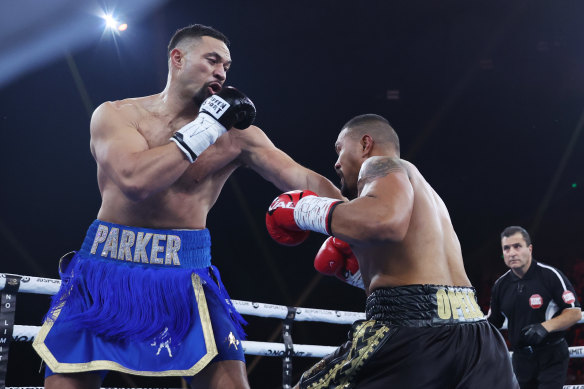 "It was over in a flash – I hoped it would go a bit longer," Nikita Tszyu said.
"I landed an uppercut. I saw a victim, the hunter instinct inside of me went into kill mode.
"If I see someone wounded, I want to hurt them."
Asked who he wanted to fight next, Tszyu cheekily said: "There is one person in this arena that I had my eye on: The Gypsy King, Tyson Fury. I don't care if I go heavyweight, I'll take your WBC title."
Loading
When an image of an unimpressed Fury flashed up on the big screen, Tszyu said: "I'm joking, don't kill me."
Ben Horn, the only man to remain on his feet after facing Tszyu, called for a rematch after pulling off an undercard upset against the previously undefeated Joel Taylor.
"I already spoke to [Horn], he keeps bringing it up to me. Nope," Tszyu said.
"I'm not doing the rematch, I'm not interested. He's too tough. He can take a shot too well, it isn't fun. Sorry Benny."
Parker also made short work of Opelu, proving he is a class above. His great mate Fury, who sat ringside during the fight night, believed the Kiwi could again become a world champion.
"I think it was a great performance, it just shows how hard Joseph is working in the gym," Fury said.
"I've always been saying this, there are a lot of levels in boxing, he's a world heavyweight champion former, and he's going to get back up there again in my opinion."
Asked who he would like to see Parker fight next, Fury said: "I'd like to see him fight a rematch with Andy Ruiz or Joe Joyce. Maybe Dillian Whyte or AJ [Anthony Joshua]. F— them all!