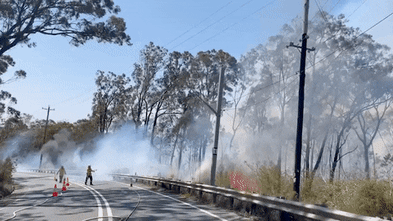 Yesterday was the equal-hottest September day on record with a provisional maximum temperature of 34.6 degrees, matching a scorcher back on September 26 in 1965, Weatherzone says.
At 2pm, the heat hit 35.7 degrees at Sydney Airport, beating its previous September record of 35.6 degrees from 2000.
A half an hour later in Penrith, the temperature peaked at 34.5 degrees.
The Bureau of Meteorology predicts today will reach 35 degrees, a key ingredient in today's extreme fire rating.
It's likely to be the first time Sydney experiences two consecutive days above 34 degrees in the month of September since records began.
But will today beat yesterday's heat?
The temperature at Observatory Hill was 29.8 degrees at 10:30am, just shy of yesterday's 30.1 degrees at the same time.
The humidity's at 23 per cent, similar to yesterday, but wind speeds are twice as fast at 35 kilometres per hour.
Penrith is also looking like it will give their September high temp record of 37.3 degrees a nudge, with the region already at 32.6 degrees as of 10.50am.
The heat should reach its full intensity between 1 and 2pm – we'll have a better idea then whether today takes the cake.