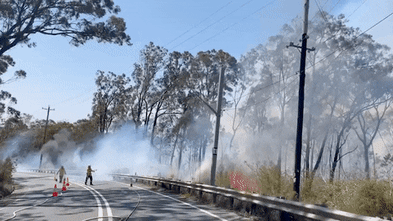 Bushfire-scarred villages and towns on the NSW South Coast have been on edge over the past few days, with fire and weather warnings triggering memories of the devastating Black Summer fires four years ago.
The 2019-20 bushfires burnt through 60 per cent of Bega Shire and destroyed 465 houses, including in Cobargo, where three people died.
A bushfire in 2018 also destroyed 70 houses in the nearby coastal town of Tathra.
Mayor Russell Fitzpatrick said the moment people in the shire smelled smoke now, they started to worry.
"Our anxiety levels with fires are a lot higher than any other area in Australia after what we have been through," he said.
"Yesterday was pretty hectic. In the morning, we didn't have any fire fronts but we ended up with a couple of grass fires. When they pop up in residential areas it's a bit scary.
"We had to evacuate the Eden primary school when the fire got to within 300 metres. Today's a bit better. It's a bit cooler today, and we're expecting a cold change."
He said the community was working hard to prepare for bushfires, working with the Rural Fire Service to learn how to prepare their properties and make their own bushfire plans.
He said the council had secured a grant to build a new evacuation centre at the Bega showground, with work expected to begin in the next six months.
It is also upgrading a clubhouse in Eden to serve as an evacuation centre.