"It would be cool wouldn't it?" Hooper said. "Seeing Samu and the guys represent your country at an Olympics, that's pretty special. But I honestly don't know if I could do it athletically."
Australian sevens performance manager Scott Bowen said Hooper had the speed and athleticism, and predicted would be "outstanding" for the team given his leadership and experience.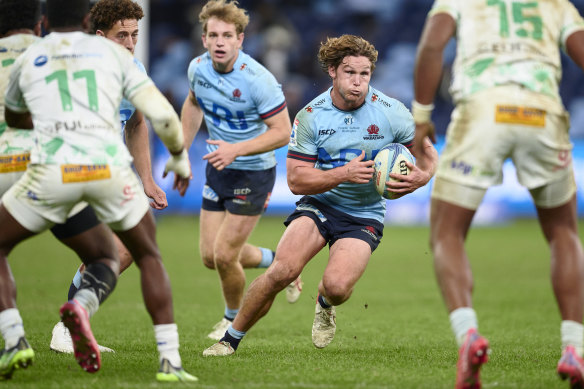 Hooper mentioned the Olympics again last month and informed sources say discussions have continued between Rugby Australia and Hooper's camp about the option of him joining the Aussie sevens program, which holds appeal given the squad is based in Sydney.
Stephen Hoiles, a former assistant coach of the Australian sevens team, said Hooper could handle the physical transition comfortably and said he'd be a huge asset to Manenti's program.
Loading
Hoiles said he'd previously talked with Hooper about playing sevens ahead of the Tokyo Olympics.
"He is definitely one of the people who could succeed at that level … the most important ingredient is almost the ability to stuff yourself in the hurt locker and stay there for 14 minutes, six times in a weekend," Hoiles said.
"It doesn't sound like much but it's almost harder than 15s, where its intense but you get plenty of breaks. Hoops' experience and mindset would help lift that squad, for sure. He has good skills and is a good reader of the game.
"You have to be careful, those guys in there qualified and the program is as good as it's been for long, long time.
"But I know the goal of Johnny and Chucky [assistant coach James Stannard] will be to win a gold medal, so they'll now starting talking to guys and look to supplement a core group of 10 with a few guys like Corey Toole, Lachie Anderson, Marky [Nawaqantiwase] and a guy like Hoops. If you are going to medal, you want 16-18 guys competing for spots and have good players missing out."
Hooper said last month he had given himself no time frame on a decision, given his focus is purely centred on achieving success with the Waratahs and the Wallabies at the 2023 Rugby World Cup.
Watch all the action from the Super Rugby Pacific with every match streaming ad-free, live and on demand on Stan Sport.