A 28-year-old protester in Nantes was being treated after reportedly having his hand blown off by a stun grenade.
Some 13,000 police were deployed around France, including 5000 in Paris where officers fired tear gas as black-clad protesters teamed up with their yellow-vest counterparts in chanting: "Everyone hates the police."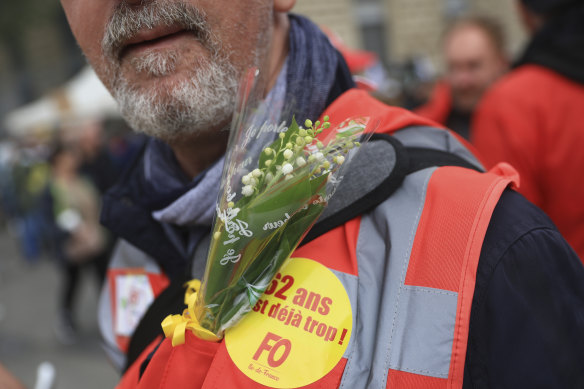 The clashes were worst in the Place de la Nation, where protesters set on fire a bike rental station that firemen struggled to put out as it spread to a neighbouring building.
Police detained 540 people for questioning nationally, including more than 60 in Paris. The Interior Ministry said 406 police and dozens of protesters were injured, some seriously. Police deployed drones for the first time in the French capital and Bordeaux to pinpoint trouble spots.
Prime Minister Elisabeth Borne condemned "unacceptable" scenes of violence.
"If the vast majority of demonstrators were pacifists of course, in Paris, Lyon and Nantes in particular, the police face extremely violent thugs who came with one objective: to kill cops and attack the property of others," said Interior Minister Gérald Darmanin.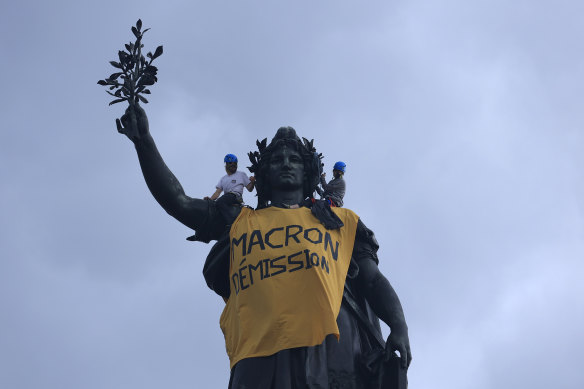 There were violent clashes in the western city of Lyon where vandals fired fireworks and bangers at police, causing several injuries.
Unions deplored the presence of up to 1000 vandals who they said had ruined their march.
The moderate CDFT, France's biggest union, slammed their presence saying: "Our march is being manipulated by violent groups that have nothing to do with the battles we are waging."
"It's revolting, it's unfair to all those who have mobilised in such high numbers," said Sonia Paccaud, a local CFDT leader.
Loading
In Marseille, around 200 protesters briefly occupied the plush Intercontinental hotel and daubed "bourgeois are on the menu" on the walls. Sébastien Fournier, an FSU unionist, said that one of the hotel's shareholders was investment fund giant Black Rock, which had advised Macron regarding his pension reform.
In Paris, environmental activists vandalised a cultural centre linked to the richest man in the world. The Louis Vuitton Foundation, to the east of the capital, is funded by LVMH, the luxury goods conglomerate owned by Bernard Arnault, the 74-year-old multi-billionaire Frenchman who currently tops all global rich lists.
Spraying the building with paint, Extinction Rebellion activists said: "You're watching direct action against the rich this May Day 2023."
Loading
"All over the world, we'll be hitting the streets in solidarity and resistance. This is how we do it, comrades."
Other environmental activists daubed paint on Place Vendôme, which houses the Ritz.
One protester, Jean-Louis Pétraud, a retired state education worker, said: "I don't condone violence but I understand it. Macron only knows how to be contemptuous. Whenever he talks to people, he looks down on them, like they're fools. It is King Macron, in the pay of Europe and big money."
"There has never been such a rejection of a president in the history of the Fifth Republic," he told Le Monde.
Didier, 61, one of the yellow vest protesters demonstrating in Paris, said: "In democracy, when the majority don't want a law, whatever one might think, you withdraw it," pointing to the fact that polls showed the vast majority of the French people were against raising the retirement age.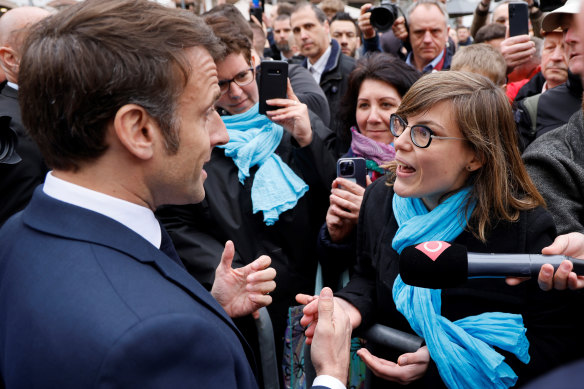 "For me, [not listening to the will of the people] is fascism," he claimed.
In a speech in Paris, Jean-Luc Mélenchon, the figurehead of the Leftist opposition France Unbowed party, said that "Macron resign" was fast becoming "a desire and a mass popular hope".
"On July 14, we'll teach him the meaning of the word 'insurrection'," he said.
Meanwhile, in a speech in Le Havre, where she was feting May Day, Marine Le Pen, head of the populist National Rally party, accused Mr Macron of "feeding the temptation of street violence".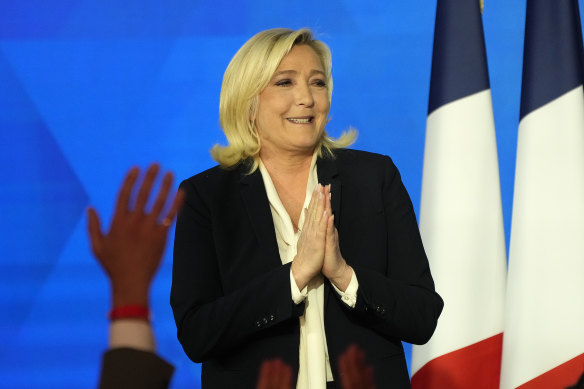 "He wanted to put the country on the march, he broke it down", she claimed.
"Rarely has a president been so disconnected, so lonely, so besieged, but still so arrogant. Rarely has a government been ghostly, vaporous and transparent," she added.
After three months of demonstrations, Mr Macron rammed through his pension bill without a parliamentary vote as he lacked a majority. Almost three in four French people were unhappy with the president, a survey by the IFOP polling group found last month.
In recent days, Macron has embarked on a tour of the country to assuage public anger, and has been met by hundreds of protesters banging pots and pans to express their displeasure.
His prime minister is due to invite the unions for talks on other reforms in areas such as labour and health.
However, labour representatives say they will not "turn the page" over pensions.
They "will not move onto anything else while the bill hasn't been withdrawn," warned Sophie Binet, head of the hardline CGT union.
"The president must return to reason."
The Telegraph, London