Collingwood legend Peter Daicos doesn't expect the huge gap between games to be an issue for his son Nick when he returns for the Magpies' second final.
Nick Daicos was ruled out for more than a month when he suffered a hairline fracture in his right knee early in August.
Peter Daicos said he did not expect Nick to play in the qualifying final against Melbourne despite coach Craig McRae keeping the door slightly ajar for an earlier-than expected return.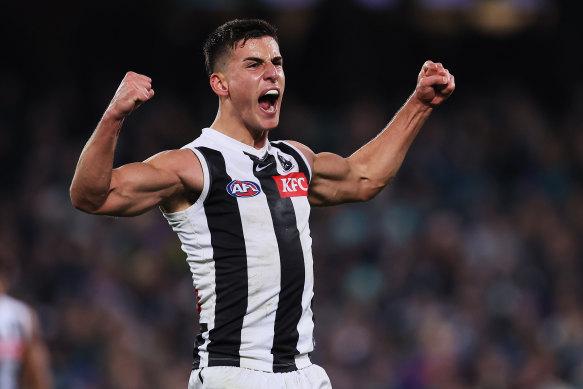 The club had been firm that he would not be available in the first week of the finals, but McRae told Fox Footy on Tuesday night he preferred not to rule the slim possibility out completely.
The senior Daicos was confident that Nick would not be hampered by time out of the game when he does make his return, saying Nick had slotted in fine at the start of his AFL career, despite having played very few games in the preceding years due to COVID-19.
"One of his good attributes or skill sets is his hard running and if they came off a little bit he's still going to be up there," Daicos said.
He said he sometimes cringes when he sees what is said or written about his son because he knows he would, ideally, prefer to work away in the background.
"I ask him at times how he is feeling with it and I know him pretty well, so he tells me as it is. He is pretty comfortable with it and he uses a lot of that with self motivation as well," Daicos said.