And now Dutton has lost his shadow attorney-general and spokesman for Indigenous Australians, so he can go to the backbench to campaign for the Voice.
Leeser, of course, tried to sugarcoat his fundamental differences with Dutton and much of the Liberal party room on the Voice and the coming referendum.
"I resign without rancour or bitterness and remain a loyal Liberal, fully committed to the leadership of Peter Dutton," he said.
"I've worked with Peter Dutton for many years. As the shadow minister, I've probably travelled with Peter Dutton more than any other colleague. I've seen him listen to and engage with Indigenous
communities and Indigenous leaders. And he has a genuine desire to improve the conditions that Indigenous Australians find themselves in."
As if that wasn't enough, he went all but stratospheric about Dutton's attributes as the leader, even though he could no longer work with him right now.
Loading
"My final goal for this term is to work for the election of a Coalition government under the leadership of Peter Dutton," he said.
"In Peter Dutton, we have the most experienced and tested opposition leader in our history. Peter Dutton is a man who kept our country safe for nine years and I look forward to working for
his election."
In history.
You'd hope that John Howard – who was an actual prime minister for almost 11 years after a testing 22 years in and out of ministries and opposition leadership – and those who remember Robert Menzies (who created the Liberal Party while in the wilderness and was prime minister for a total of 18 years, including two at the start of the actual World War II) weren't having their morning tea, for they surely would have been in danger of choking.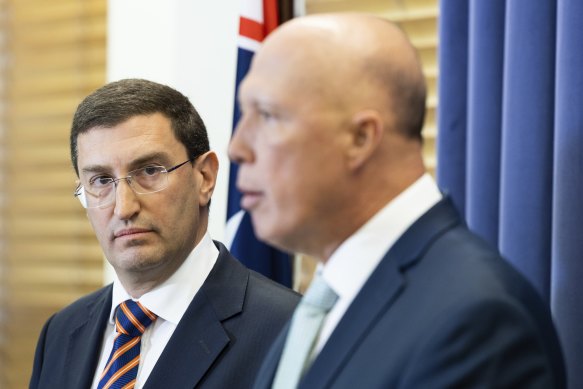 Here is a less varnished truth.
Leeser, the man chosen by Dutton to lead the opposition on matters of law and Indigenous affairs, has quit the frontbench at the very moment Dutton's leadership is most in question, so Leeser can campaign against his political leader's view that Aboriginal Australia shouldn't have a constitutional Voice.
Most awkward for Dutton. Very.
Cut through the noise of federal politics with news, views and expert analysis from Jacqueline Maley. Subscribers can sign up to our weekly Inside Politics newsletter here.